May/June 2009
Inside This Issue:
Research Identifies Potential Wildlife-Wind Energy Conflict Areas Across Pennsylvania
Renewable energy policies and Appalachian ridges combine to make Pennsylvania a favorable setting for wind energy facilities. But a proliferation of proposals and developments has created new challenges for Pennsylvania local governments, which are ultimately responsible for permitting commercial installations on private lands.
Rows of wind turbines bring the promise of emissions-free energy, but the tall, moving structures possess a broad development footprint encompassing hundreds or thousands of acres. Their unique form and site requirements threaten some of the state's most significant wildlife habitats in upland areas. In Somerset County, for example, grassroots resistance to commercial wind proposals has grown, in part, due to environmental concerns.
To provide a tool to more comprehensively address land use decisions involving commercial wind energy, the Center for Rural Pennsylvania sponsored research in 2008 in which researchers developed an approach to highlight areas where competing demands of wind development and wildlife protection are likely to emerge.
The research was conducted by Dr. Brian W. Okey and Michael J. Kuzemchak of Indiana University of Pennsylvania.
Wind energy and wildlife
Commercial wind energy is a new and largely unregulated land use in the state. Other than federal stormwater or wetlands permitting requirements, few policy mechanisms exist to ensure that ecological considerations are addressed in wind development proposals. For example, a Pennsylvania Department of Environmental Protection model ordinance offers a template to address public health and welfare but offers no guidance on wildlife concerns.
Wind energy facilities have a potential for direct and indirect threats to wildlife—particularly bats and birds—in the airspace swept by the turbine blades and along the forested ridges cleared to permit service roads and other associated infrastructure. In some cases, rates of bird and bat mortality inflicted by wind turbines have caused alarm over the vulnerability of species populations.
To address the need for more information on wind energy-wildlife conflicts, the researchers first compiled a database for use in geographic information system analyses. This required the purchase of wind speed data from a private vendor and coordination with the Western Pennsylvania Conservancy to obtain Natural Heritage Area (NHA) data. The researchers standardized and modified the data sets to serve the specific demands of the project.
The U.S. Department of Energy classifies wind speed on a scale ranging from 1 through 7; wind speeds below Class 4 are not generally desired for commercial purposes, and were removed from the dataset.
To identify areas of potential conflict, the researchers superimposed wind speed and NHAs. This overlay process was also needed to show the coexistence of NHAs. The researchers used the numbers and types of NHAs at a location as a basis for attributing ecological significance.
To develop an index usable for setting land use priorities, the researchers ranked areas of overlap among wind speeds and different NHAs in a new map layer. The resulting "conflict" index was intended to convey the level of ecological importance of areas featuring commercially desirable wind speeds.
To present the results from the analyses in a format suitable for use by local officials, the researchers selected Pennsylvania townships containing areas of conflict, and constructed separate map files scaled to the individual townships. They designed a legend scheme to clearly present the conflict index and added reference features to orient map readers.
Pennsylvania Townships Vulnerable to Wind Energy-Natural Heritage Conflict (n = 235)

In all, the researchers identified 235 townships in 39 counties containing areas of potential conflict between Class 4 or greater winds and the heritage conservation areas (See map above).
In spatial terms, both the greatest commercial potential and the greatest likelihood of ecological risks lie in the southwestern portion of the state.
Research conclusions
The researchers caution that wind speeds alone are imperfect predictors of commercial energy sites, and this study focused on a subset of Class 4 or greater wind areas exhibiting natural heritage overlap. The researchers emphasize that no model can completely replace case by case evaluations of proposed sites and a more sophisticated analysis would require the inclusion of electric grid access, road networks, land ownership, and a host of other factors that ultimately influence location choices.
Overall, this research served as a first attempt to map potential conflict areas. The maps may certainly be revised as natural heritage inventories are updated, commercial wind technology evolves, and the nature of risks to specific species is better understood.
For a copy of the research results, Modeling Potential Wildlife-Wind Energy Conflict Areas, call the Center for Rural Pennsylvania at (717) 787-9555, email info@ruralpa.org or visit www.ruralpa.org.
User's Manual Available
Given the technical nature of the information presented in the wildlife-wind energy research, and the specialized procedures employed, the researchers documented their steps in creating the maps and developed a user's manual to help local officials interpret them.
The manual, Using Pennsylvania Natural Heritage Program Data for Wind Energy Planning: A Manual for Townships, includes copies of the 235 township maps and provides recommendations on how local officials can use the maps for planning purposes.
While the research report and user's manual are not substitutes for detailed site reviews in proposed development areas, these publications are proactive tools that may better ensure the coexistence of wind energy and wildlife populations in Pennsylvania.
For a copy of the manual, call the Center for Rural Pennsylvania at (717) 787-9555, email
info@ruralpa.org
or visit
www.ruralpa.org
.
---
Chairman's Message
The words winds of change describe several things. A quick search on the Internet shows these three words are the titles of: a national women's foundation; a magazine for Native Americans; a speech delivered by former British Prime Minister Harold Macmillan to the Parliament of South Africa; a variety of books on the subjects of weather and climate, Iranian democracy, and domestic air transport; and, finally, three songs, one of which was written by the Scorpions.
I'd like to add to that list and suggest that those words could serve as the subtitle of this issue of Rural Perspectives. Page 1, which features the research findings on wildlife and wind energy, is the best illustration of this.
With the enactment of Act 1 of 2008, Pennsylvania took a major step forward to develop, promote and use alternative energy sources. Wind energy development has considerable potential to help change our current dependency on foreign sources of energy. There is some concern, however, about the potential negative impact on Pennsylvania's environmental and ecological systems. Research sponsored by the Center and conducted by Indiana University of Pennsylvania faculty has taken that into consideration and the results have yielded a practical report and manual for local officials. The report provides details on the research and the manual includes maps depicting 235 townships in 39 counties containing areas of potential conflict between Class 4 or greater winds and heritage conservation areas.
Another recently released report, Alcohol, Tobacco, and Other Drug Use Among Youth in Rural Pennsylvania, provides an analysis of three years of data from the Pennsylvania Youth Survey regarding alcohol and substance use by rural youth. As described in the article on Page 4, the big four substances among our rural youth are alcohol, tobacco, marijuana, and smokeless tobacco. This is a stark reminder to us all that "winds of change" have brought what was once thought to be a problem facing only our metropolitan areas to our own rural communities and families.
In ancient times, strong winds enabled huge ships to export the wealth of nations back to their homeland. To better understand the role exporting plays today in Pennsylvania's changing economy, East Stroudsburg University professors examined county level data to determine the characteristics, distribution and economic significance of rural exporters. Highlights of the research results are on Page 5.
The winds of change can bring about drastic results with lingering effects. This is probably most evidenced by the current economic recession and, in particular, workforce unemployment. Page 6 includes county level maps of the commonwealth depicting unemployment rates for the first quarters of 2008 and 2009. From January to March 2008, the highest unemployment rate was 6.7 percent in Sullivan County. Just one year later, eight counties, all rural, had rates exceeding 10 percent.
The winds of change have also required a very careful review of all expenditures of state government and, for many, will bring about some dramatic results. As we in the legislature become fully engaged in the debate moving toward the passage of the commonwealth's 2009-2010 state budget, we will put our best efforts forward to meet the challenges facing the state and our current economic situation. And whatever the final decisions are, the Center and I will continue our work to promote and sustain the vitality of Pennsylvania's rural and small communities.
Senator John Gordner
---
Alcohol, Tobacco, Marijuana, Smokeless Tobacco
Substance Use Among Rural Youth
Alcohol, tobacco, marijuana and smokeless tobacco are the "big four" substances used most among rural youth, according to research sponsored by the Center for Rural Pennsylvania and conducted by faculty at Pennsylvania State University.
In fact, by the 12th grade, more than 80 percent of rural youth drank alcohol and more than 50 percent smoked cigarettes in their lifetime. Also by the 12th grade, 50 percent of rural males used smokeless tobacco at some point in their life and approximately 40 percent of rural youth smoked marijuana at least once in their lifetime.
In most cases, rural Pennsylvania youth used the big four substances at rates higher than their peers in urban areas and at the national level.
Research details
In 2007, Drs. Keith Aronson and Mark Feinberg of Penn State and Dr. Lynn Kozlowski of the State University of New York at Buffalo examined alcohol, tobacco and other drug (ATOD) use among Pennsylvania's rural youth. They set out to describe ATOD use in rural Pennsylvania, understand which risk and protective factors predict ATOD use, and identify differences in rural versus urban ATOD use that might impact policy decisions.
The researchers completed a literature review of rural ATOD use; conducted meetings with Pennsylvania government and academic policy stakeholders to gather information on their goals and priorities; reviewed Pennsylvania government websites to determine the extent to which information on rural ATOD issues was present; and analyzed the Pennsylvania Youth Survey (PAYS) data for 2001, 2003 and 2005.
Research findings
In addition to identifying the use of the "big four" substances among rural youth, the research also showed that use rates for the big four have slightly, but consistently, declined from year to year between 2001 and 2005.
The one exception to this trend was smokeless tobacco use, which held steady or increased year to year.
Among rural youth, the median age of first-time alcohol use was 13 years. However, nearly 25 percent of rural males and 17 percent of rural females reported initiating alcohol consumption prior to age 10. In each of the three waves of the PAYS data, the median age for regular alcohol use was 15 years old, the median age for first-time cigarette use was 12 years, and the median age for first-time marijuana use was 14 years.
After examining several risk and protective factors associated with ATOD use, the researchers noted two surprising results: for three of the big four rural substances, community cohesion (typically associated with lower levels of ATOD use) was associated with increased ATOD use; and school support for pro-social involvement (typically associated with lower levels of ATOD use) had no influence on the use rates of any of the big four substances except smokeless tobacco.
The study results also show differences in some aspects of ATOD use between rural and urban youth, depending on the substance and the grade and gender of youth.
Policy considerations
Based on the results, the researchers suggest that state government consider acquiring additional valid and reliable data related to why ATOD use, attitudes, trends, and behaviors differ between rural and urban youth. The researchers also suggest that:
Pennsylvania continue to employ programs that encourage community assessment of risk and resilience in specific communities and then make decisions with the single county authority to select, implement, and evaluate prevention and intervention programs that best address the issues prevailing in that community;
programs that address ATOD use start when children are younger, since a number of rural youth may start using at age 10 or under; and
most of the commonwealth's efforts for rural youth focus on the big four substances.
Report available
For a copy of the research results, Alcohol, Tobacco, and Other Drug Use Among Youth in Rural Pennsylvania, call the Center at (717) 787-9555, email info@ruralpa.org or visit www.ruralpa.org
---
.
A Look at 2008 Insurance Department Data on the Uninsured
In 2008, 11 percent, or about 342,100, of rural Pennsylvanians under the age of 65 did not have health insurance, according to data from the Pennsylvania Insurance Department. In urban areas, 9 percent of residents under age 65 were uninsured.
According to that same data, the uninsured rate in both rural and urban areas varied by age. For example, 5 percent (36,210) of rural children between the ages of 0 and 18 and 5 percent (102,788) of urban children were uninsured. However, 14 percent (287,966) of rural working-age adults between the ages of 19 and 64 and 11 percent (589,961) of urban working-age adults were uninsured.
Statewide, Bedford, McKean, Pike and Union counties had the highest rate of uninsured persons under 65 years old. In each of these counties, 15 percent or more of the non-senior population were uninsured. Chester, Luzerne and Montgomery counties had the lowest rates of uninsured: in each, 6 percent or less of the non-senior population were uninsured.
Data from the U.S. Census Bureau show that, nationally, in 2006-2007, Pennsylvania ranked 43rd in the percent of the population that was uninsured. Florida, Louisiana, New Mexico and Texas had the highest percentage of uninsured residents, each with more than 20 percent of the population uninsured. Hawaii, Massachusetts, Minnesota and Wisconsin had the lowest rates, each with less than 9 percent of the population uninsured.
Interestingly, among rural Pennsylvania counties, the rate of uninsured residents was not significantly correlated with the unemployment or poverty rates, or with median household income.
---
Research Offers Baseline Data on County Exports
Exports have become a large component of the Gross Domestic Product (GDP) over the past three decades, increasing from a mere 5 percent of GDP in 1970 to more than 12 percent in 2007. Exports also have become a significant component of Pennsylvania's Gross State Product. According to the U.S. Department of Commerce, Pennsylvania exporters increased their annual sales to foreign buyers from $16 billion in 2003 to more than $29 billion in 2007. This growth in exports was the eighth largest nationwide.
The great significance of exporting industries in the commonwealth and the potential for future growth are recognized by state government, which has instituted a large network of export trade consultants and programs. For example, the Center for Trade Development, the Regional Export Network and the Global Network of Trade Representatives are dedicated to the growth of Pennsylvania business and to their expansion into international markets, according to the Pennsylvania Department of Community and Economic Development (DCED).
In addition, Pennsylvania is an important exporter of processed foods, crop and livestock products, agricultural and forestry machinery, and agricultural chemicals, according to 2007 data compiled by the World Institute of Strategic Economic Research.
According to the Pennsylvania Department of Agriculture, Pennsylvania ranked first among all 50 states in the production of export grade hardwood, second in the export of hardwood logs, 10th in exporting furniture and 19th in exporting paper.
While there is considerable information on exports by state, there is a lack of information on exports at the county level.
To learn more about rural county exports and exporters, Dr. Constantinos Christofides, Todd Behr and Dr. Pattabiraman Neelakantan from East Stroudsburg University conducted research in 2007 and 2008 to gather data on exports by county in Pennsylvania, the location of exporting establishments, the products they sell, and the relative economic impact on their region and the state. The Center for Rural Pennsylvania sponsored the research through its Research Grants Program.
In general, the research examined the export industry in Pennsylvania to determine the characteristics, spatial distribution and economic significance of rural exporters. The researchers used foreign trade statistics from the U.S. Census Bureau, data from Dun and Bradstreet's Selectory Database and data from a survey of rural exporters.
According to the research, roughly 25 percent of Pennsylvania's exporters reside in rural counties and 75 percent reside in urban counties. Most exporters in Pennsylvania are in the manufacturing industries, such as chemical manufacturing, fabricated and primary metals, machinery manufacturing, food product manufacturing, and transportation equipment. However, rural Pennsylvania firms that do export still sell most products to domestic buyers. In fact, the great majority of rural exporting firms export less than 10 percent of their total output.
The research results also show that Pennsylvania exporters are relatively small in size, with 80 percent of registered exporting establishments employing fewer than 100 workers. This finding is consistent with national reports by the U.S. Census Bureau that describe the great majority of exporters as small and medium in size.
Finally, the research found that, in spite of the impressive efforts by state and federal governments to create a great variety of export assistance programs, about 82 percent of rural exporters in Pennsylvania did not use any government assistance.
Based on the research findings, the researchers offered suggestions on how the state, primarily through DCED, might improve the effectiveness of its efforts to help Pennsylvania exporters. Their suggestions include the development of a comprehensive export guide to inform rural Pennsylvania exporters of the many services and assistance programs provided by the state; and the development of a comprehensive directory or registry of exporting establishments to provide more information on county-level exporters and exports.
For a copy of the research results,
Rural Exports: A Baseline Study
, call the Center for Rural Pennsylvania at (717) 787-9555, email
info@ruralpa.org
or visit
www.ruralpa.org/reports/html
.
---
Fast Fact: Unemployment Rates for the First Quarters of 2008 and 2009, by County
January to March 2008

January to March 2009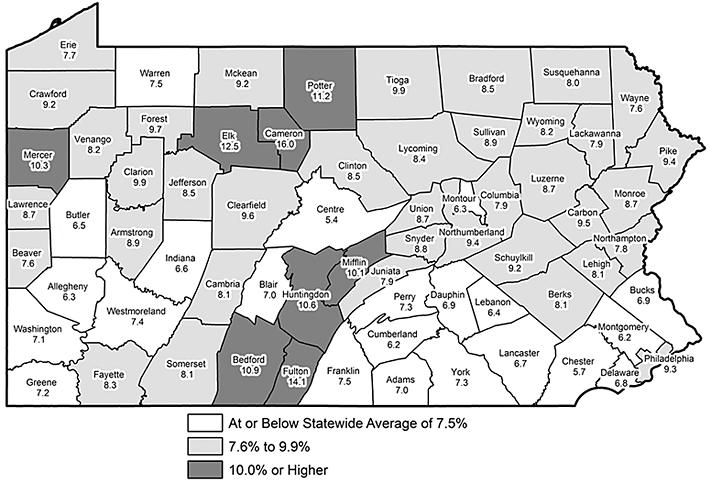 ---
Just the Facts: SAT Scores
Before they can enter a college or university, students are often required to take standardized entrances exams. One of these exams is the SAT, which is administered by the nonprofit College Board. The SAT gauges a student's college readiness by assessing skills in mathematics, critical reading (verbal) and writing. According to the College Board, the higher the student's score, the more likely he or she is prepared for college courses.
According to SAT score data compiled by the Pennsylvania Department of Education, rural school districts have, on average, lower scores than urban school districts. In 2008, the average math score for students in rural districts was 494 out of a possible score of 800. The average score for students in urban districts was 507. There was a similar pattern for the reading and writing portions of the test: students in urban school districts scored higher, on average, than those in rural school districts.
Among the 50 states, Pennsylvania ranked 39th in the combined math, reading, and writing scores. The states with the highest combined scores were Missouri, Iowa and Minnesota. Hawaii, Kansas and Maine had the lowest scores.
One reason why Pennsylvania students' scores are relatively lower than the rest of the nation could be the higher percentage of Pennsylvania students taking the test. In Pennsylvania, approximately 35 percent of students took the SAT (dividing the number of students who took the SAT test by the number of 11th and 12th graders) in 2008. Among states with the highest scores, less than 5 percent of students took the test. Within Pennsylvania, 32 percent of urban students and 28 percent of rural students took the SAT.
The data revealed a significant correlation between rural SAT scores and the total amount of taxes collected per student in Pennsylvania school districts. However, there was no significant correlation between SAT scores and the amount of money the school district spent per student.