September/October 2014
Inside This Issue:
Center Concludes Public Hearings on Heroin Crisis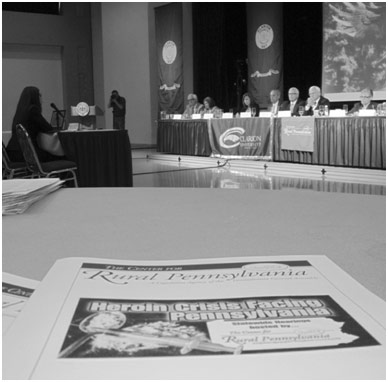 On August 19, the Center for Rural Pennsylvania held the last in a series of four public hearings on heroin and opioid abuse in Pennsylvania. The hearing was held at Clarion University of Pennsylvania. Earlier hearings were held in Williamsport, Reading and Loretto. Representatives from state and local law enforcement organizations, health care organizations and treatment facilities, school districts and universities, local and state government agencies, businesses and the public presented testimony to the Center's Board of Directors and local legislators.
In September, the Center will provide the General Assembly with a summary of the hearings and suggestions for legislative policies that may help to curb the use of these dangerous narcotics.
More information on the hearings is available below in the Chairman's Message and at http://www.rural.palegislature.us/publications_heroin_and_opioid_addiction_public_hearings.html.

---
Research Tracks Trends Related to Marcellus Development in Four Rural Counties
It's no secret that Marcellus Shale development in Pennsylvania has created significant discussion about the potential implications for the commonwealth's communities and natural environment. In 2012, a team of researchers from Penn State University began to chronicle community changes in four counties to learn more about the social and economic impacts of Marcellus Shale development in Pennsylvania. The study, sponsored by the Center for Rural Pennsylvania, is documenting strategies used by institutions, organizations, and communities to manage economic and social impacts of gas development.
The first phase of the study, conducted in 2012 and 2013, focused on aggregate change in the four study counties of Bradford and Lycoming, in the northern tier, and Greene and Washington, in the southwest. It examined county-level indicators including population, housing, local economies, crime, health and healthcare access, K-12 education, agriculture and local government. It also examined the experiences of youth and low-income residents in communities with shale-based development.
The research used secondary data and focus groups to examine trends and describe strategies used by individuals, farms, businesses, local health, housing and human service agencies, and school districts to adapt to changes.
The results from this phase of the study are available in nine topical reports, which are described below.
For a copy of the research report, The Marcellus Shale Impacts Study: Chronicling Social and Economic Change in North Central and Southwest Pennsylvania, and the nine topical reports, visit www.rural.palegislature.us.
---
Chairman's Message
We can't arrest our way out of this problem. This was a recurring theme at each of the four public hearings on the heroin epidemic that the Center for Rural Pennsylvania conducted in July and August. Law enforcement personnel at every level, from local police chiefs and sheriffs to county district attorneys to Pennsylvania Attorney General Kathleen Kane, told Center board members and legislators about their efforts to combat the availability of heroin in our rural and urban communities by attacking the supply chain. They told us how that chain has spread from our metropolitan areas throughout the commonwealth, overrunning our towns with a narcotic that has become more pure, more potent and more addictive over the past two decades. These law enforcement officials are using everything at their disposal to break that chain, but they know that it will take more than just arrests to put an end to this heroin epidemic.
Many of the judges who testified at the hearings echoed this theme. While they talked about the need to hand down stiffer penalties to dealers, they also talked about the need for more treatment courts and alternative sentencing options for heroin and other opioid addicts, particularly those who are low-level offenders, to get the help they need and possibly avoid incarceration.
Health care professionals, treatment professionals and parents described the effects of heroin and opioid addiction, and the heavy toll it takes on individuals, families, communities and our commonwealth. They talked about the disease of addiction and the need to treat it properly, just like any other disease. They talked about the life saving results of the drug naloxone, which counters the effects of a heroin or opioid overdose, and the need to make it available to more first responders, parents included.
And they talked about the proactive steps that everyone must take to combat this epidemic, namely through education and prevention. Starting with our middle-school-age youth and working our way on up to teens, adults and seniors, we need to present a clear message about the dangers of drugs, all drugs, including prescribed narcotics. Some testifiers identified prescription medications as gateway drugs to heroin, and said that we need to help everyone understand the dangers of sharing these medications and not using them as prescribed.
These are just some of the themes that emerged from the more than 15 hours of testimony from the more than 50 presenters who shared compelling statistics, information and stories. Thank you to each of them for taking the time to meet with us and help us to get some solid ideas on how we can address this public health crisis. In September, the Center will summarize information from the hearings and present its report to the legislature. Overall, when it comes to combating this issue, I think David Ellis, regional director with the Attorney General's Bureau of Narcotics Investigation, said it best: "We are only limited by our creativity."  
Senator Gene Yaw
---
Rural Snapshot: Rural Youth Education Study €" After-School Jobs

The Center for Rural Pennsylvania contracted with Pennsylvania State University researchers in 2004 to begin a longitudinal study of rural Pennsylvania school students to understand their educational, career and residential goals and the factors influencing these goals.
The Rural Youth Education Study followed two groups of youth from 11 rural Pennsylvania school districts. The study collected data every other year for four waves beginning in 2005.
At the beginning of the study, the younger group was in 7th grade and the older group was in 11th grade. By the final wave, the younger group was 1 year out of high school and the older group was 5 years out of high school.
This installment of Rural Snapshot looks at the students who were in 11th grade during Wave 3 and their employment status. It compared those who were employed and not employed with other school- and non-school-related variables. For the analysis, an 11th grader was considered to be employed if he/she usually worked 5 or more hours a week.
Researchers who want access to the data for further analysis should call or email Jonathan Johnson at (717) 787-9555 or johnsonj@rural.palegislature.us.
Percent of 11th Graders Who Were Employed, Wave 3
(worked 5 or more hours per week)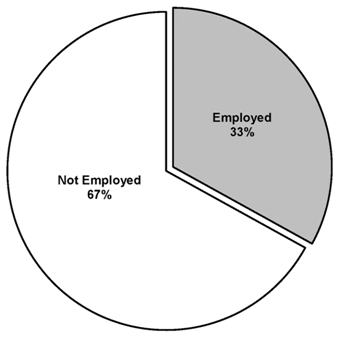 ---
Job Type for 11th Graders, Wave 3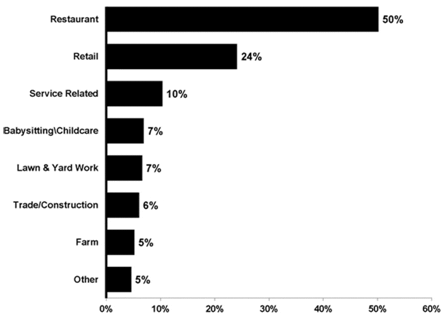 Note: Totals do not add up to 100 percent due to some students having more than one job.
---
Family Financial Indicators for 11th Graders by Employment Status, Wave 3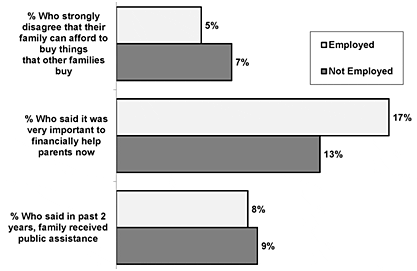 ---
Typical Weekly Wages for 11th Graders, by Gender, Wave 3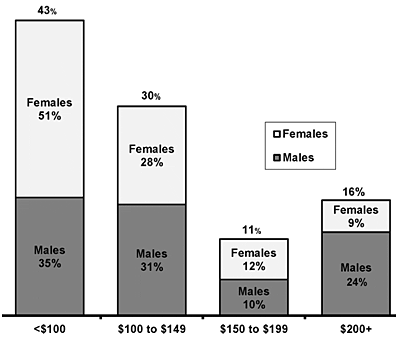 ---
Percent of 11th Graders With Three or More Days Absent During Preceding Month, Wave 3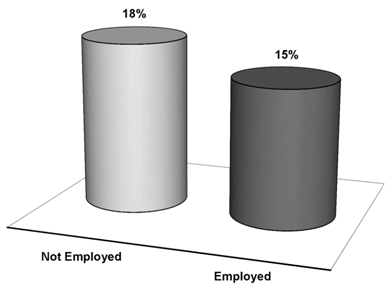 ---
Grades of 11th Graders by Employment, Wave 3

---
Just the Facts: Municipal Parks
Newly released data from the Pennsylvania Department of Conservation and Natural Resources (DCNR) confirms what many have suspected; Pennsylvania has loads of local parks. 
According to the data, there are 5,618 local parks (county and municipal) in Pennsylvania. These local parks encompass 171,408 acres, or nearly 1 percent of the state's total land area. The data do not contain information on park amenities or use.
More than one-third of Pennsylvania communities do not have a local park. Specifically, 35 percent of Pennsylvania's 2,562 municipalities do not have local parks. The majority of these 887 "park-less" municipalities are rural (89 percent).  Statewide, about 9 percent of Pennsylvania's total population lives in a municipality without a local park. In general, all municipalities without local parks have smaller populations and lower household incomes and housing values than the statewide averages.
Among those municipalities with local parks, rural municipalities have, on average, about two local parks (1.6), with a combined land area of 69 acres. Urban municipalities have, on average, five local parks (5.0) with a combined land area of 133 acres. These numbers, however, are skewed by a handful of municipalities with very large local parks. For example, 57 percent of rural municipalities have local parks that are less than 15 acres, 31 percent have parks that are 15 to 99 acres, and 12 percent have parks that are 100 acres or more.
Rural municipalities with 100 acres or more of parkland account for 78 percent of all rural local parkland. There is a similar pattern among urban municipalities: 25 percent of urban municipalities have parks that are 100 acres or more, accounting for 85 percent of all urban parkland.
On average, rural municipalities spend less on recreation than urban municipalities. Rural municipalities with local parks spent, on average, nearly $26,700 on recreation, or $12 per person. That's according to financial data collected by the Governor's Center for Local Government Services using an inflation adjusted 5-year average (2008-12). Urban municipalities with local parks spent about $490,000, on average, or $45 per person. Among both rural and urban municipalities, recreation spending accounts for 3 percent of total expenditures.