September/October 2017
Inside This Issue:
Research Explores Rural Health Alliances
Hospital and health system mergers happen regularly, and these days, they tend to occur across increasingly larger service areas. The reasons for these healthcare alliances often include increased service efficiency and improved service availability and quality.
Rural health organizations, especially rural community hospitals, are increasingly aligning with larger healthcare systems to minimize operational and financial risk, and increase capacity. However, little is known about how these healthcare alliances might impact community health capacity and the health-related quality of life of rural Pennsylvanians. In other words, do these alliances truly benefit rural residents?
Background
To learn more about healthcare alliances in rural Pennsylvania, Dr. Chad Kimmel of Shippensburg University and Dr. David Sarcone of Dickinson College examined the formation of healthcare alliances among five health systems across Pennsylvania, including: Laurel Health System; Wayne Memorial Health System; Shamokin Area Community Hospital; Penn Highlands Healthcare; and the Tyrone Regional Health Network (See Map). The research, conducted in 2016, was sponsored by the Center for Rural Pennsylvania.
To complete the study, the researchers interviewed 48 key stakeholders and used publicly available data on community social and economic characteristics, community health status, and hospital operational and financial performance.
Location of Five Health Networks Studied

Findings
Overall, the researchers learned that all five health systems were influenced by one or more of the following considerations. First, rural community health leaders simply believed that the benefits of forming an alliance to better leverage scarce resources outweighed the associated costs. Second, institutional leaders believed operational efficiencies could truly be achieved by reducing inter-organizational redundancy and improving service coordination. Third, because of the increasing complexity and risk of newly developing healthcare reimbursement and service delivery models, rural community health leaders believed that alliances could potentially mitigate uncertainty by more broadly sharing the risks associated with change and by committing greater and more expert resources to market adaptation. Finally, on occasion, rural health organizations attempted to collaborate with a more prestigious organization to increase legitimacy.
Overall, the researchers found that, in most cases, the alliances minimized the rural hospitals' operational and financial risks and increased community health capacity through increased investment in rural hospitals and their associated services. In many instances, the introduction of new services was based on documented community need. And in several cases, innovative approaches to care were implemented. An example includes the application of telemedicine solutions to improve access to specialty care services. The research documents numerous efforts to improve care coordination and invest in clinical quality. Although it was beyond the scope of the research to conclusively demonstrate that the organizational changes improved community health status, the study showed that population-based health management models, which offer the potential for long-term health status improvement, are in place in several communities.
For a copy of the report, Exploring Healthcare Alliances in Rural Pennsylvania, visit www.rural.palegislature.us.
---
Chairman's Message
According to a July 2017 report from the U.S. Drug Enforcement Agency-Philadelphia Division and the University of Pittsburgh, the heroin and opioid epidemic claimed over 4,600 lives in Pennsylvania in 2016. The report also notes that 78 percent of Pennsylvania counties had overdose death rates higher than the national average.
Since 2014, the Center has held 12 public hearings throughout the state to raise awareness about the epidemic. From these hearings, we've learned that this epidemic's reach runs far and wide, affecting not only those who are struggling with addiction, but also family, friends, treatment and healthcare professionals and facilities, law enforcement, emergency responders, employers, educators, and entire communities. We have also learned that numerous individuals and organizations have stepped up to fight this epidemic. We have seen laws enacted to address specific issues related to the crisis, such as Act 139 of 2014, which made naloxone more widely available, Act 191 of 2014, which enhanced the Prescription Drug Monitoring Program, and Act 124 of 2016, which requires prescription drug prescribers to obtain initial and continuing education in pain management, identification of addiction and the use of opioids as effective treatment. We have also seen new programs implemented to address the need for treatment and prevention programs, like the Pennsylvania Department of Drug and Alcohol Program's warm hand-off process, which helps overdose survivors who go to emergency departments to receive counseling and a doctor's referral so that they may be transferred directly from the emergency department to a drug treatment facility.
However, 3 years after the Center's first hearing, we know we still have a great deal of work to do. As part of its role in serving the General Assembly, the Center will hold another public hearing in Williamsport, PA on October 26. This hearing will bring together practitioners in the fields of addiction, law enforcement, treatment, and education to look at the current state of addiction in Pennsylvania and to hear about what's working and what still needs to be done.
To continue taking positive steps in tackling this epidemic, we all need to work together. And while government and law enforcement are rightful partners, so are our businesses and industries €" including the pharmaceutical industry €" our educational systems, the medical community, and the general public.
As Chairman of the Center for Rural Pennsylvania, I can tell you that the Center's Board of Directors and staff are committed to continuing our work on fighting the heroin and opioid epidemic. For more information on the October hearing, visit the Center's website at www.rural.palegislature.us.
Senator Gene Yaw
---
Center Board Meeting Highlights
On August 15, Indiana University of Pennsylvania (IUP) President and Center Board Member Dr. Michael Driscoll hosted the Center's quarterly Board of Directors meeting at IUP. Dr. Susan Boser, a faculty member at IUP, presented background information and the current work being completed as part of her research, Employment Opportunities for Rural Residents with Disabilities in Pennsylvania.
After the meeting, the board and staff participated in a round table discussion with Indiana County local and county government, business, tourism, and university representatives. Topics included community and economic development, the opioid epidemic, the lack of broadband availability, healthcare, and tourism.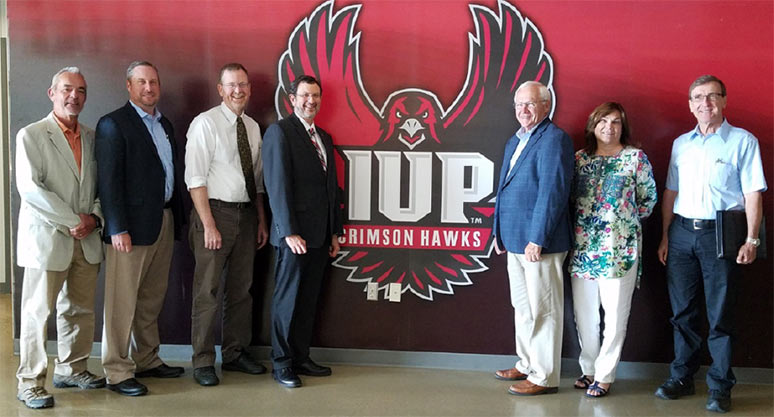 Board members, above, left to right: Rep. Garth Everett, Stephen Brame, Dr. Timothy Kelsey, Dr. Michael Driscoll, Sen. Gene Yaw, Dr. Nancy Falvo and Dr. Stephan Goetz.
| | |
| --- | --- |
| Dr. Susan Boser. | Indiana County community round table discussion. |
---
Rural Snapshot: Pennsylvania's Rural and Urban Counties
Population by County, 2016

In 2016, nearly 3.4 million people, or about 27 percent of the state's 12.7 million residents, lived in Pennsylvania's 48 rural counties. (U.S. Census Bureau)
From 2010 to 2016, rural Pennsylvania's population declined about 2 percent. Urban Pennsylvania's population increased by 1 percent. (U.S. Census Bureau)
By 2040, Pennsylvania rural counties are projected to have a total population of 3.61 million people, a 4 percent increase from 2010. (Pennsylvania State Data Center and U.S. Census Bureau)
From 2000 to 2015, rural Pennsylvania's population became more racially diverse. In 2000, there were about 157,201 residents, or 5 percent of the total population, who were non-white and/or Hispanic. In 2016, 297,059 rural residents, or 9 percent of the total population, were non-white and/or Hispanic. (U.S. Census Bureau)
From 2005 to 2015, the number of births decreased 5 percent in rural Pennsylvania and 2 percent in urban Pennsylvania. In 2015, 39 of Pennsylvania's 48 rural counties had more deaths than births. (Pennsylvania Department of Health)
Rural and Urban Population, 2016


Data source: 2010 Census, U.S. Census Bureau.
Rural and Urban Square Land Miles, 2010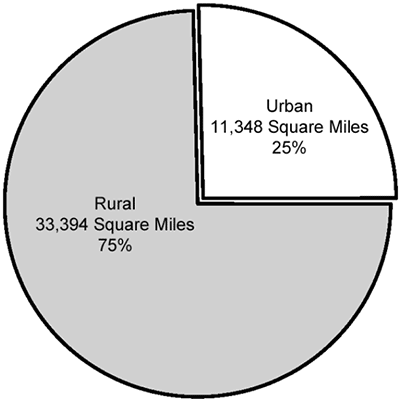 Data source: 2010 Census, U.S. Census Bureau.
Population Density by County, 2010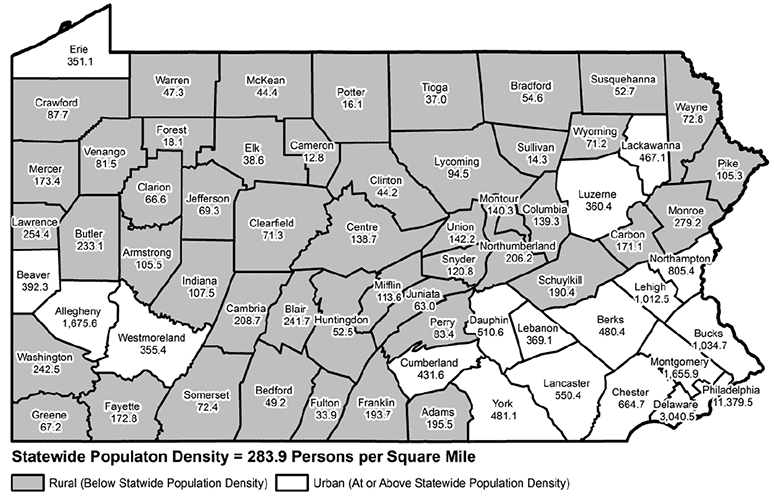 Data source: 2010 Census, U.S. Census Bureau.
Rural Pennsylvania Population, 1960 to 2040 (projected)


Data source: U.S. Census Bureau and Pennsylvania State Data Center.
---
Flood Mitigation
Impact of Federal Policies on Pennsylvania Rural Communities
Changes to the National Flood Insurance Program are seriously impacting Pennsylvania because of its history of flooding, its pattern of development along rivers and streams, the age of its structures, and its system of local government.
Through the Biggert-Waters Flood Insurance Reform Act of 2012, Congress mandated that the Federal Emergency Management Agency (FEMA) adopt "full risk" or "actuarial" rates for flood insurance to address what was then a $20 billion budget shortfall caused by damage from recent storms. This resulted in sharp premium increases, especially for those property owners whose rates had been subsidized.
In 2014, Congress passed the Homeowner Flood Insurance Affordability Act, which reinstated some lower rates for some primary residences and delayed other rate increases. However, that extension expires in September 2017, and FEMA is still mandated to increase rates and decrease subsidies to address a now $25 billion deficit. Even with the 2014 modifications, these changes have and will impact Pennsylvania.
To explore the effects of these changes on Pennsylvania's rural communities, researches from Pennsylvania State University, Florida Gulf Coast University and Bucknell University reviewed the legal and policy aspects at the federal, state, local and individual levels, and examined the demographic and geospatial information associated with flood-impacted communities in Pennsylvania.
The research, Flood Mitigation for Pennsylvania's Rural Communities: Community-Scale Impact of Federal Policies, also examined the economic impacts to the housing market in floodplains, and explored how flooding, flood insurance, and other federal and state programs have impacted Pennsylvania's rural communities through eight community case studies. 
The research was conducted by Dr. Lara B. Fowler, Dr. Ryan Baxter, Dr. Scott J. Colby, Dr. Maurie Kelly, Kayla Kelly-Slatten, and Dr. Katherine Y. Zipp of Pennsylvania State University, Dr. L. Donald Duke of Florida Gulf Coast University and Bucknell University, and Michele Weitzel of Florida Gulf Coast University. It was sponsored by the Center and is available online at www.rural.palegislature.us.
---
Did You Know . . . It's Time for the County Fair
Pennsylvania is home to 109 county and community agricultural fairs.
Pennsylvania's oldest fair is the York Fair, organized in 1765.
About 85 percent of Pennsylvania county fairs have been operating for 50+ years
Altogether, Pennsylvania's county fairs attract roughly 5.5 million visitors annually. Each local county fair attracts more than 49,900 visitors, on average.
Fairs bring in about $50 million in revenues annually. Revenues were projected to reach $57.5 million in 2016.
Pennsylvania fairs are strongly oriented toward agricultural activities (offered by 97 percent of fairs), but an equal proportion also serve as entertainment venues.
Pennsylvania fairs operate in 61 counties, with Lancaster County having seven, Berks, Blair and Mercer counties each having five and Fayette County having four. Seven counties have three fairs each and 14 have two fairs each. Every rural county but one (Forest) has at least one fair.
Data source: Economic Impact of Pennsylvania's Fair Industry, April 2013, Pennsylvania State Association of County Fairs.

---
Just the Facts: Career and Technical School Enrollment
Enrollment in rural and urban career and technical centers (CTCs) is increasing. According to data from the Pennsylvania Department of Education, enrollment in comprehensive and occupational CTCs increased 4 percent from the 2012-13 to 2016-17.
Among the 37 rural CTCs, there were 16,345 students enrolled in 2016-17. These students comprised 12 percent of all rural school district students in grades 9 through 12.
Among the 33 urban CTCs, there were 30,490 students enrolled in 2016-17. These students comprised 9 percent of all urban school district students in grades 9 through 12.
In 2016-17, 61 percent of students enrolled in CTCs were male and 39 percent were female. In urban CTCs, 57 percent of students were male and 43 percent were female.
From 2012-13 to 2016-17, rural male CTC enrollment increased 4 percent and rural female enrollment increased 5 percent. There was a similar pattern among urban CTCs.
Among CTCs that reported financial data for 2015-16, rural CTCs spent $11,461 per student while urban CTCs spent $752 more ($12,213 per student). 
Nationwide, in 2015-16, there were nearly 8.1 million students enrolled in CTE (Career Technical Education) schools. These students comprised 16 percent of all public school students. From 2011-12 to 2015-16, enrollment in CTEs increased 9 percent.
The states with the highest CTE school enrollments in 2015-16 were North Carolina, Arkansas, and Nebraska. In each of these states, more than 30 percent of all students were enrolled in CTE schools. The three states with the lowest enrollments were Maine, Pennsylvania, and Oklahoma, each less than 5 percent of all students enrolled in CTE schools.