January/February 2021
Inside This Issue:

Center Board Announces 2021 Research Grant Awards
The Center for Rural Pennsylvania's Board of Directors approved four research grant proposals as part of the Center's 2021 Research Grant Program at its December 2020 meeting.
Faculty members of Penn State University and the Pennsylvania State System of Higher Education universities submitted the successful proposals, and will begin their respective research projects in January and February.
"This research will continue building on the Center's past research and rich database to provide policy and decision makers with information that is unique to rural Pennsylvania and its nearly 3.4 million rural residents," Senator Gene Yaw, Center board chairman, said. "As always, the Center's board is grateful for the participation of our partner universities in the research grant program. The knowledge and expertise of these faculty members are invaluable." 
2021 Research Grants
Social Isolation in Rural Pennsylvania
Dr. Christopher Harris of Kutztown University of Pennsylvania will analyze the extent of social isolation among rural Pennsylvanians age 65 years or older. The research will identify evidence-based programs that minimize social isolation, evaluate the determinants of social isolation, and evaluate current programs and services used in other states to determine replicability in Pennsylvania.
Distance Learning and Online Coordination of Service in Pennsylvania's Rural School Districts
Dr. Gerard LeTendre of Penn State University will use website data, surveys, and focus groups to analyze school district digital infrastructure and long-term planning in Pennsylvania's 235 rural school districts. The research will also provide policy recommendations in four areas: infrastructure; instruction and curriculum; student support; and family and community engagement.
Assessment of Housing Stock Quality in Rural Pennsylvania
Dr. Ying Yang of Shippensburg University of Pennsylvania will create a quantitative index to measure the quality of housing stock and its distribution in rural Pennsylvania. The research will also identify major public housing programs and assess their effectiveness, and propose policy recommendations that can help rural Pennsylvanians to achieve quality and healthy residences.
Profile of Pennsylvania's Children
Dr. Rhoda C. Joseph of Penn State University €" Harrisburg will use secondary data from multiple sources to present an analysis of children (ages 0-17) in Pennsylvania, for the 10-year period of 2010-2019. The research will analyze the data along eight dimensions and present a comprehensive perspective on Pennsylvania's rural and urban children.
Special RFP on COVID-19
Currently, the Center is accepting research proposals on the impacts of COVID-19 in rural Pennsylvania. The Center especially welcomes proposals on topics that address COVID's effects on the economy and education, as well as COVID vaccines, testing, treatment, and prevention, as they relate to rural Pennsylvania.
Click here for more information on the special COVID-19 Request for Proposals. Click here for more information on the Research Grant Program.
---
Chairman's Message
Late last year, the Pennsylvania General Assembly passed two pieces of legislation that will help deploy broadband to our state's rural areas. Act 98 of 2020 relaxed restrictions on the ability of Pennsylvania electric cooperatives, cable companies and other entities to attach broadband units to existing utility poles. Act 132 of 2020 provided about $5 million in funding for nongovernmental groups to install broadband across underserved areas of Pennsylvania.
I think we can all agree that this is good news for our rural communities and residents, many of whom are without high-speed broadband internet service. These are big steps in the right direction of helping to provide this essential service to our rural residents.
One of the recommendations in our most recent research on broadband internet services, Broadband Demand: The Cost and Price Elasticity of Broadband Internet Service in Rural Pennsylvania, which was released in November 2020, was to remove some of the hurdles that rural electric cooperatives and other entities may face to deploy broadband.
As the legislature begins the 2021-2022 session, this research provides some additional recommendations on the next steps that may be taken to continue the deployment of high-speed broadband internet service to rural Pennsylvania.
Over the years, and especially last year, we've all come to realize just how important broadband is to our economy, our health care system, our schools, and more. Broadband deployment will continue to be an issue in the years ahead, and we need to take actions that will ensure that all residents have access to affordable broadband services.
If you're a regular recipient of this newsletter, I'm sure you've noticed its new look and our new logo. If you visit our website, you'll see our new logo again, and some other changes and features that we hope you'll enjoy.
Some changes you may not be aware of are the departures and additions among Center staff and board. Grants Manager Mary Kandray Gelenser and Administrative Assistant Linda Lebo retired from the Center in January. Each had more than 30 years of state service, and we thank Mary and Linda for their many years of work and dedication to the Center, and wish them all the best in their retirement. In turn, we welcome the Center's new Grants Manager Pam Frontino and Office Manager Linda Hinson to the team. More about Mary, Linda, Pam and Linda is on Page 6.
We also thank Dr. Michael Driscoll, president of Indiana University of Pennsylvania, and Dr. Lawrence Feick, of the University of Pittsburgh, for their service to the board and the Center. We welcome Dr. Charles Patterson, president of Mansfield University of Pennsylvania, and Dr. Catherine Koverola, president of the University of Pittsburgh at Bradford and Titusville, to the board. We look forward to working with them.
Senator Gene Yaw
---
Research Documents Willingness to Pay for High-Speed Broadband Service
Rural Pennsylvanians' willingness to pay for broadband is higher than urban residents, and urban and rural Pennsylvania residents are receiving inequitable broadband service - not only in terms of broadband speed, but also in the prices they pay for service -  according to a new study published by the Center for Rural Pennsylvania.
The study, conducted by Sascha Meinrath, Palmer Chair of Telecommunications at Penn State University and Steven Mansour of X-Lab, examined willingness to pay and existing price differences €‹within€‹ broadband speed tiers to provide a unique first look into factors that continue to create substantial barriers to closing the digital divide in Pennsylvania. 
"This research, along with the Center's 2019 research on broadband availability and access, helps answer some important questions and claims about the digital divide in rural Pennsylvania," said Senator Gene Yaw, chairman of the Center for Rural Pennsylvania. "We know that broadband is not available to many more Pennsylvanians than was previously claimed, and now there is evidence that rural Pennsylvanians are willing to pay for broadband connections, and, in some cases, are paying more than others for the same or slower broadband speeds."
The research was conducted in 2020, and included a survey of 1,446 rural and urban residents from 670 ZIP Codes across the state. The researchers asked respondents about the types of technology available to them, the monthly costs of their internet service, their home internet speeds, and how much they would be willing to pay for 25 Megabits per second (Mbps) download speeds.
The survey results showed that 54 percent of urban respondents have a cable internet connection versus 34 percent of rural respondents. About 17 percent of urban respondents have fiber connections versus 2.6 percent of rural respondents. For rural residents, dial-up (18.8 percent), DSL (18.6 percent), and satellite internet (6.3 percent) are more common technology services than for urban residents (6.1 percent, 6.7 percent, and 1.9 percent, respectively).
The results also show that broadband demand is significantly higher for rural residents than urban residents at every monthly price point under $60/month. Demand drops off significantly for both rural and urban respondents, and then "flatlines" at rates greater than $80/month.
The policy considerations from the research are to: change Pennsylvania's current definition of "broadband," which is defined as 1.544 Mbps download and 128 kilobits per second upload speed, to meet or exceed federal definitions for broadband; and identify measures that would increase demand through the creation of incentives, grant programs, and baseline service mandates that create optimal pricing structures, ideally with broadband service offerings under $60/month.
Click here for the research, Broadband Demand: The Cost and Price Elasticity of Broadband Internet Service in Rural Pennsylvania.
---
Center Welcomes New Board Members
| | |
| --- | --- |
| Dr. Charles Patterson | Dr. Catherine Koverola |
The Center's Board of Directors welcomed Dr. Charles Patterson, president of Mansfield University of Pennsylvania, and Dr. Catherine Koverola, president of the University of Pittsburgh at Bradford and Titusville, to the board in January.
Dr. Patterson became president of Mansfield University of Pennsylvania in 2019. Prior to joining Mansfield University, he served as an executive in the U.S. Department of Education's Office of Federal Student Aid, and president and vice president for research and economic development within the University System of Georgia.
Dr. Koverola became president of Pitt-Bradford and Pitt-Titusville in 2019. Most recently Dr. Koverola served as the inaugural provost at the African Leadership University in Mauritius. She has also served as provost and vice president for academic affairs at Cambridge College, dean of the Graduate School of Arts and Social Sciences at Lesley University, and dean of psychology and interim vice president of academic affairs at Antioch University Seattle.
---
Rural Snapshot: Pennsylvania Bridges
Data sources: Pennsylvania Department of Transportation (PennDOT), and the Federal Highway Administration. Data exclude all state bridges less than 8 feet in length and all non-state bridges less than 20 feet in length. The Center for Rural Pennsylvania excluded from this analysis all culverts and bridges that were closed, under construction, or temporary. The Center also excluded bridges that were included in the dataset but had no information on their overall condition. PennDOT rates bridges as good, fair, or poor, according to a bridge's overall status in terms of structural soundness and ability to service the traveling public. The overall condition is determined by the lowest rating of Deck, Superstructure, Substructure, or Culvert. The ratings are: Good - A numeric score greater than or equal to 7 on primary component conditions rating; Fair - A numeric score of 5 or 6 on primary component conditions rating; Poor - A numeric score of 4 or less on primary components conditions rating, and previously referred to as Structurally Deficient, indicating that the bridge has deterioration to one or more of its major components.
Number of Bridges in Rural and Urban Pennsylvania Counties, by Owner, 2020


*Category includes 46 bridges with missing information on ownership.
---
Focus on Rural Pennsylvania Bridges

---
Time Periods When Rural and Urban Pennsylvania Bridges Were Constructed or Reconstructed, 2020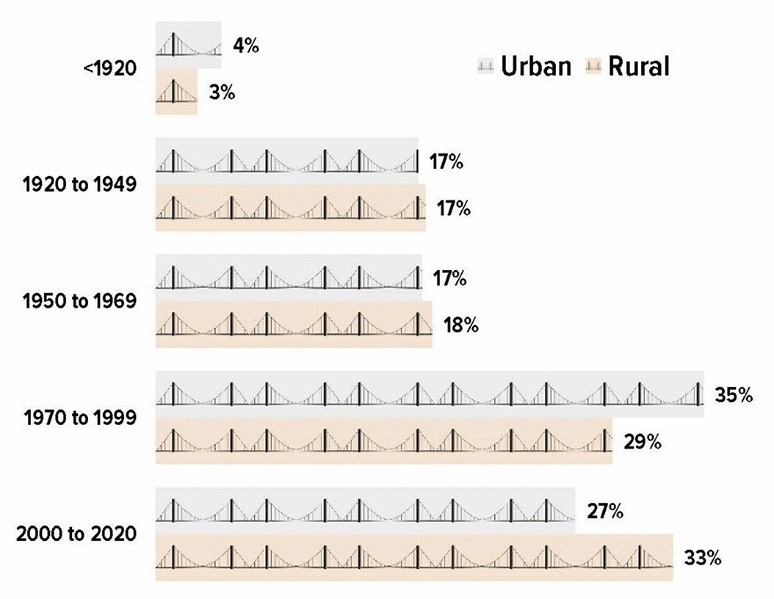 ---
Percent of Rural and Urban Bridges Classified as €œPoor,€ by Ownership, 2020
(Excludes private and railroad bridges and those with missing ownership information)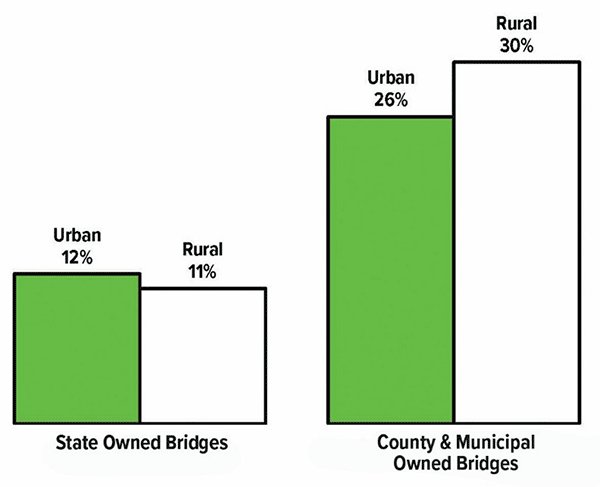 ---
Location of Pennsylvania Bridges Rated as €œPoor,€ 2020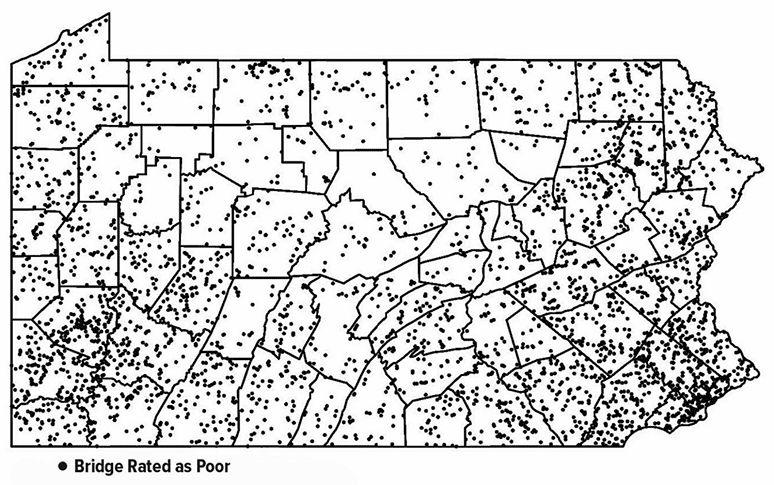 ---
Center Staff Updates: Fond Farewells,
| | |
| --- | --- |
| Linda Lebo | Mary Kandray Gelenser |
The Center wished two of its longstanding employees a happy retirement earlier this month.
Linda K. Lebo, Administrative Assistant, and Mary Kandray Gelenser, Program Manager for Grants, both retired from the Center in January. Linda joined the Center in 1989, and Mary has been with the Center since 1997.
Linda was the fourth employee to join the Center in 1989. As administrative assistant, she oversaw all office functions, including financial, clerical and event planning. She was instrumental in helping to plan conferences and special events throughout her service, and assisted with in-house research projects.
For more than 20 years, Mary coordinated the development of the Center's annual request for proposals, provided hands-on technical assistance to prospective researchers, administered the fiscal and program elements of Center-funded research grants, prepared research for publication, and assisted in editing Center publications. In addition, Mary represented the Center on many statewide boards and commissions, most recently the Dairy Future Commission in 2020.
Thank you Linda and Mary for your many years of service to the Center and to rural Pennsylvania. Please join us in wishing them well in their retirement.
and Welcome Aboard
| | |
| --- | --- |
| Pam Frontino | Linda Hinson |
In December, the Center welcomed new employees Pam Frontino, Program Manager for Grants, and Linda Hinson, Office Manager.
Before joining the Center, Pam served in civic engagement roles at West Chester University and Susquehanna University, leading projects in sustainable community development, food security and access, and academic service-learning. She has also worked for community-based organizations in Pennsylvania, Massachusetts, and internationally.
Pam holds a master's degree in sustainable international development from Brandeis University, and a bachelor's degree in political science from Susquehanna University. 
Before she joined the Center, Linda worked in higher education as a Program Assistant in several programs, including the Honors Program at Elizabethtown College.
Linda has a bachelor's degree in Business Administration from Elizabethtown College.
Please join us in welcoming Pam and Linda to the Center.
---
Just the Facts: Housing Values
According to the latest Census Bureau data, in 2019, average housing values in rural Pennsylvania were $172,100. The average housing values in urban Pennsylvania were $248,900, or $76,800 higher than the rural average. 
From 2010 to 2019, rural housing values declined 3 percent, on average, after adjusting for inflation. Among urban homes, there was a 7 percent decline. The reasons for these decline may be due to:
Decreases in the Number of Homeowners: From 2010 to 2019, the number of homeowners in rural Pennsylvania decreased 2 percent. This decrease was aligned with the overall decrease in the rural population of 2 percent during this period. Together, these decreases may have reduced the demand for homes, and in turn, housing values.
Shifts in Home Values: Like most places, housing values within rural Pennsylvania range from very low to very high. In 2010, 62 percent of homes were valued at less than $150,000. By 2019, 52 percent of homes were valued below $150,000, for a decline of 10 percentage points. On the other hand, homes valued at $250,000 or more increased 6 percentage points (14 percent of all homes in 2010 and 20 percent of all homes in 2019). The increase in higher-valued homes was still not enough to offset the decrease in lower-valued homes, thereby causing an overall decline in housing values.
According to the Census data, Pennsylvania was not alone in the decrease in housing values.
Nationwide, 31 other states had a decrease in average housing values from 2010 to 2019. Except for New York, each of Pennsylvania's neighboring states had a decline in housing values. The large number of states with a decrease in housing values may suggest some lingering effects of the Great Recession (2007 to 2009), since it had a direct impact on housing values nationwide.