September/October 2020
Inside This Issue:
More than locating books and DVDs

Research Examines Pennsylvania Public Library Services
Today's public libraries are safe, accessible spaces where people expect to find a wide range of resources and assistance. And today's librarians often assist patrons in obtaining access to government services, employment opportunities, and more.
To learn more about rural public library services, Dr. Sara A. Grove and Dr. C. Nielsen Brasher of Shippensburg University of Pennsylvania examined services provided by Pennsylvania public libraries, specifically focusing on barriers and opportunities to providing assistance with government services and identifying innovative practices used by rural libraries that emphasize access to government services.
Their research, conducted in 2019 and 2020 and sponsored by the Center for Rural Pennsylvania, began with a review of recommendations from the 2010 Joint State Government Commission's report, The Pennsylvania Public Library Code: Findings and Recommendations. The researchers then analyzed data from 2007 through 2017 collected by the Pennsylvania Office of Commonwealth Libraries to assess library service provision, staff numbers and training, and revenues received from all sources. They used data collected by the Institute of Museum and Library Services through the Public Library Survey to compare Pennsylvania public library revenues, staff and other indicators with those of libraries in other states. These data were supplemented by online surveys completed by library staff and patrons, and by focus groups with staff and patrons at six rural Pennsylvania public libraries.
After reviewing the 2010 report from the Joint State Government Commission, the researchers concluded that the majority of recommendations were followed. The most significant of the recommendations was the codification of the Public Library Code into consolidated statute form. The recommendations related to providing improved and consistent funding have not yet been realized.
The data analyses revealed that, over the past 10 years, Pennsylvania libraries have experienced budgetary challenges. The 2008 recession and demands for other services meant less discretionary money at all levels of government. While Pennsylvania library revenue grew at a rate of 8.7 percent from 2008 to 2017, when adjusted for inflation, Pennsylvania library revenue actually fell by 8 percent.
The Public Library Survey indicated that the federal government provides little money to public libraries nationwide, representing about 0.5 percent of revenue. Pennsylvania state government was more generous than other state governments in supporting public libraries, as it ranked among the top 15 states for state library funding. However, the research found that local government funding ranked second lowest among all states. Pennsylvania libraries are increasingly reliant on funding from other sources, primarily donations from individuals and community groups, with some grant funding. The research noted that these activities require more time and effort from staff when this time and effort could be used to help library patrons.
When comparing rural and urban Pennsylvania library revenues, the research indicated some differences. Per capita operating revenues for rural libraries were substantially lower than urban libraries over the 10-year study period. Rural libraries relied more on funding from state government than local government, and, consequently, a reduction in state funding hit rural libraries harder than urban libraries.
To supplement the publicly available data, the researchers conducted surveys with library staff and patrons. Library staff were asked about the services provided to patrons and training associated with those services. Traditional library functions were evident, with a heavy emphasis on assisting patrons with finding reading materials and DVDs. Assistance with digital library services, including e-books, reflected the growing influence technology has on library services. While most library staff reported occasionally assisting with locating information on health issues, substance abuse, and wellness and mental health issues, nearly one-fifth reported having to assist patrons with these topics often or all the time. Library staff reported having high levels of training associated with fulfilling traditional library functions, but less training to address patrons' questions about health issues, substance abuse, and mental health and wellness. The results did not differ among rural and urban libraries.
When specifically asked about assisting patrons with online tasks, more than half of librarians said they were often called on to assist patrons with completing job applications, preparing tax forms, and completing Pennsylvania Department of Transportation (PennDOT) forms. Respondents from rural libraries reported more staff time devoted to completing PennDOT forms and applications for public assistance when compared to urban libraries. Urban library respondents reported helping with voter registration more often than their rural counterparts. Library staff said their training was adequate to assist patrons in operating public computers, completing job applications, and completing forms from PennDOT.
Beyond training, libraries face challenges in such areas as funding, physical space, and equipment. Funding was reported as the most significant issue, with nearly three-fourths of respondents seeing this as a problem. On average, respondents reported spending 20 percent of their time on fundraising for the library. Library staff typically reported the library was meeting the demands of its patrons when it came to providing public computers with adequate internet access and bandwidth; however, they expressed challenges in meeting patrons' needs for meetings or workspace. Respondents from rural libraries more often saw information technology support and transportation as problems than respondents from urban libraries.
Staff turnover, while a challenge for urban libraries, was not an issue for rural libraries. Patrons interviewed uniformly shared positive experiences with their libraries. And, library staff focus groups shared their efforts to bring more patrons to the library. Data from the PLS bear out these efforts with an increased number of participants in library programs despite an overall decline in the number of visitors and borrowers.
Overall, the research found that libraries are meeting community needs and strengthening individual human capacity within their communities.
Click here for the full report, The Role of Rural Public Libraries in Providing Access to Online Government Services.
---
We Want to Hear from You
We're surveying our readership to learn how you use our information and what rural issues you might be interested in learning more about. Click here to take the survey. It should take about 5 minutes to complete, and will be available until September 30. Thank you!
---
Chairman's Message
Throughout the year, and through these strange and unusual times, there is one thing that we can always count on, and that's change.
Here at the Center for Rural Pennsylvania, we, like everyone else, have been adapting to changes brought about by the coronavirus. Where we work and how we work, in terms of added safety precautions, have all changed since the beginning of the year, but we continue to conduct business as usual.
This month, for example, we are releasing the results of two research projects, one from our research partners at Shippensburg University and another from our research partners at Penn State-Altoona, which are featured in this newsletter. And we are providing an overview of the Paycheck Protection Program, the federal loan program that was created through the CARES Act, below.
Other changes, thankfully not associated with the coronavirus, also have been happening among our staff and our board.
In July, we bid farewell to former Center Director Barry Denk, and welcomed new Center Director Dr. Kyle Kopko. When the board hired Kyle, it was confident that his strong research and analytical background and his focused leadership capabilities would continue to drive the Center forward in its mission to promote and sustain the vitality of Pennsylvania's rural and small communities. After only a few months, I can say that the board should be confident in its decision, as Kyle has been working hard to get to know the diverse landscape of rural Pennsylvania and the many issues and opportunities that affect our rural communities. For more about Kyle, see the article below.
In August, we bid farewell to Board Member Dr. Stephan Goetz. Dr. Goetz first joined the board in 1999, and he was the Center's longest serving member among our current board. Over these many years, Dr. Goetz has provided great insight and feedback to the Center about our rural Pennsylvania communities, and rural communities across our nation, and that has helped the Center to develop a research agenda that continues to yield timely and important policy considerations for the Pennsylvania General Assembly. We wish him well and thank him for his longstanding service.
In the coming months, we are not sure of what other changes may come our way, but rest assured, whatever may come, we will continue our work on serving Pennsylvania's nearly 3.4 million rural residents and the communities we call home.
Senator Gene Yaw
---
Center Welcomes Dr. Kyle C. Kopko
On July 1, the Center for Rural Pennsylvania Board of Directors welcomed Kyle C. Kopko, Ph.D., as the Center's new director. Dr. Kopko succeeds Barry L. Denk, who retired from the Center at the end of July after 28 years of service.
Dr. Kopko most recently served as Associate Dean of Institutional Effectiveness, Research, and Planning, and Associate Professor of Political Science at Elizabethtown College. He earned his Ph.D. in political science from The Ohio State University in 2010. Dr. Kopko has authored or co-authored more than 30 scholarly publications, and he regularly speaks on a wide range of policy and political topics. His research has also received national and international media attention in numerous outlets, including The Wall Street Journal and The New York Times.    
"I am honored to join the Center for Rural Pennsylvania," Dr. Kopko said. "The Center's outstanding reputation is the result of the hard work of the Center's Board of Directors and staff.  I am especially grateful for Barry Denk's years of service to the Center. Under Barry's leadership, the Center established itself as the preeminent source of information and data on rural Pennsylvania communities. I look forward to working with the Center's board and staff, and serving the millions of people who live and work in rural Pennsylvania."
---
Research Examines Security Readiness of Municipal Information Systems
Hacking, malware, ransomware, and viruses are just some of the security threats that all computer and online users are exposed to everyday. Keeping information systems secure is essential in today's wired world. To learn more about the information systems security readiness of Pennsylvania municipalities, Dr. Jungwoo Ryoo, Dr. Syed Rizvi, and William Aiken of Pennsylvania State University-Altoona, and Dr. Brooke Long-Yarrison, through a grant from the Center for Rural Pennsylvania, conducted an online survey of municipalities in 2019. The survey focused on information systems security infrastructure, literacy, and actual use.
Managers/administrators and secretaries working in Pennsylvania's 2,562 municipalities were invited to participate in the survey. A total of 388 municipal employees responded to the survey, for a response rate of 15.1 percent.
The research found:
A majority of rural (84.3 percent) and urban (81.3 percent) respondents said their municipality had zero in-house IT personnel. However, about 70.5 percent of urban respondents and 55.8 percent of rural respondents said their municipalities outsourced their computer hardware and software support.
A majority of rural (80.8 percent) and urban (99.1 percent) respondents adopted usernames/passwords to control access to their computers. However, it was concerning that about 11 percent of rural respondents were not using any access control at all.
Both rural (54.3 percent) and urban (51.3 percent) respondents said their knowledge on information systems security was below average.
Many rural (58.8 percent) and urban (45.5 percent) respondents said they never change their passwords. This was alarming since periodically changing passwords is a strongly recommended security practice.
A majority of respondents said they backed up their data; however, about 72 percent of urban respondents backed up files daily, and only about 39 percent of rural respondents backed up files daily.
A majority of rural respondents said their municipalities did not have written policies on the proper disposal of sensitive data, internet use, disaster recovery, data backup, strong passwords, password expirations, data access and authorization, social media, and transporting computers/data storage devices from authorized locations.
Based on these and other findings, the researchers recommended several policy considerations, including: resource pooling among different municipalities to share IT staff with security expertise; periodic assessment of information systems security readiness among municipalities to monitor progress or any potential deterioration; and written policies for enforcing sound, daily information systems security practices.
Click here for the full report, Information Systems Security Readiness Assessment for Municipalities in Pennsylvania.
---
Rural Snapshot: Pennsylvania Public Libraries
Data sources: Public Libraries Survey, 2008 and 2018, Institute of Museum and Library Services (IMLS). Note: Data include only public libraries as defined by IMLS. Population data are from IMLS. Data include only libraries that reported information in both 2008 and 2018.
Percent of Pennsylvania Population, by County, with Public Library Cards, 2018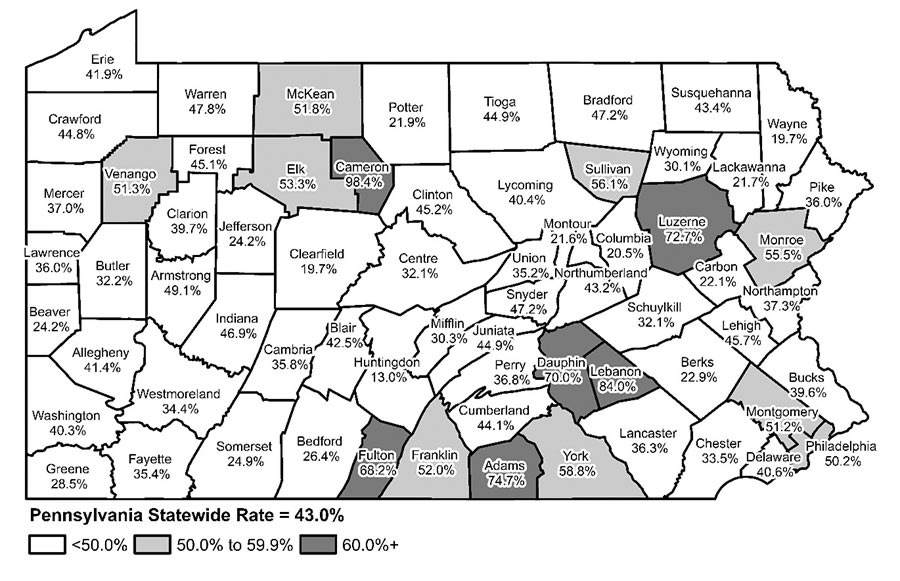 ---
Percent of U.S. Population, by State, with Public Library Cards, 2018

---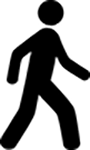 76% of rural Pennsylvanians live within 5 miles of a public library.
97% of urban Pennsylvanians live within 5 miles of a public library.
---
Sources of Pennsylvania Library Revenues, 2018
(Note: Graphs exclude federal revenues, which were less than 1 percent in both rural and urban libraries.)
| | |
| --- | --- |
| Rural | Urban |
---
Rural Pennsylvania Library Notes, 2018

---
Library Circulation* per Capita, in Rural and Urban Pennsylvania and U.S., 2008 and 2018
* Number of items checked-out of library

---
In 2008, rural Pennsylvania libraries sponsored 170 programs, on average.
In 2018, rural Pennsylvania libraries sponsored 308 programs, on average.
---
Just the Facts: Paycheck Protection Program
According to data from the U.S. Small Business Administration, 165,891 Pennsylvania businesses and nonprofit organizations participated in the Paycheck Protection Program (PPP). This federal loan program was created through the CARES Act (March 2020) to provide small businesses (<500 employees) with funds to pay up to 8 weeks of payroll costs, including benefits. Funds may also be used to pay interest on mortgages, rent, and utilities. The PPP loans will be forgiven if employers maintain or quickly rehire employees during the 8-week period as well as maintain salary levels.
The Center for Rural Pennsylvania analyzed the data on PPP participation at the ZIP Code level. Using the employers' ZIP Codes, the Center aggregated the data to Census Bureau ZIP Code Tabulation Areas (ZCTAs). ZCTAs are generalized areal representations of U.S. Postal Service Zip Codes. Eighteen participants either had incomplete ZIP Codes or out-of-state ZIP Codes. These participants were excluded from the analysis.
In rural ZIP Codes, 30,203 employers participated in the PPP, or 10.6 employers per 1,000 residents. In urban ZIP Codes, 134,688 employers participated in the PPP, or 13.8 per 1,000 residents. Nationwide, more than 4.84 million employers participated in the program or 14.8 per 1,000 residents. Among all 50 states, Pennsylvania had the 39th highest per capita participation rate.
Rural employers retained 317,033 employees, or 109 employees per 1,000 residents. Urban employers retained nearly five times that number, with 1.50 million or 151.8 per 1,000 residents. The top three industries in which rural employees were retained were: other business support services, full-service restaurants, and religious organizations. The top three industries in which urban employees were retained were full-service restaurants, law offices, and all other business support services.
The Center for Rural Pennsylvania estimated that rural employers received $3.3 billion in loans and urban employers received $19.5 billion. The estimated median loan was $25,200 for rural employers, and $30,500 for urban employers.
Although it is too early to assess the full impact of the PPP in Pennsylvania, the program did keep paychecks coming to 23 percent of the rural workforce and 31 percent of the urban workforce. 
Click here for the factsheet, Rural Pennsylvania and the Paycheck Protection Program, 2020.
PPP Loan Amounts for Rural and Urban Employers
Data source: U.S. Small Business Administration.