November/December 2021
Inside This Issue:
Pennsylvania had the fifth-highest death rate from drug overdoses in the country in 2019, according to the Centers for Disease Control and Prevention. While overdose death rates declined in Pennsylvania from 2017 to 2019, preliminary data for 2020 showed an increase.
Jobs for substance use disorder, behavioral health, and mental health counselors are likely to increase 23 percent by 2026 across the U.S., according to data from the U.S. Bureau of Labor Statistics. As the opioid crisis continues to impact communities, there may be an even higher demand for substance use disorder (SUD) treatment counselors, particularly in rural areas.
However, employee turnover in the SUD treatment field is a challenging issue, as research indicates a consistently high voluntary turnover rate among counselors.
To examine recruitment and retention issues in rural SUD treatment programs in Pennsylvania, Dr. Jennifer Murphy of Penn State Berks surveyed current SUD counselors and interviewed treatment program and clinical directors to assess the characteristics of professional SUD treatment counselors in rural Pennsylvania counties and how those characteristics relate to recruitment and retention issues.
The research also assessed higher education institutions in rural counties to understand how well they prepare those entering the profession, and it analyzed the effectiveness of state-level incentives, like the student loan repayment program, to attract potential treatment counselors.
The results indicated that counselor recruitment is a major problem for SUD treatment programs in rural Pennsylvania counties. Interviews with program and clinical directors revealed their concerns about the number of qualified applicants for open positions. The three most common reasons cited for recruitment problems were: salary, the facility's location, and applicants lacking the required training in SUD treatment.
In terms of retention, the counselor survey revealed that emotional exhaustion was the strongest predictor of intent to quit. Low job satisfaction, poor management communication, and having a high percentage of clients on medication assisted treatment were also related to intent to quit.
To increase recruitment and retention of treatment counselors, the research suggests that treatment programs should get reimbursed for services at the same rate as other mental health providers. This would allow programs to offer higher starting salaries to attract more counselors into the substance use disorder treatment field.
Another policy consideration from the research was that student loan forgiveness programs should be expanded to allow more counselors in treatment programs to qualify for the benefit. This could improve both recruitment and retention in the field.
Also, students in both undergraduate and graduate counseling programs should receive more direct education and training in addiction. Finally, the Pennsylvania Department of Drug and Alcohol Programs (DDAP) should consider increasing the variety of its counselor trainings and including more trainings related to emotional exhaustion and trauma. DDAP also should consider consulting with programs about implementing management strategies associated with better counselor retention.
Visit the Research Reports page for a copy of the report, Recruitment and Retention Issues for Counselors in Rural Pennsylvania Substance Use Disorder Treatment Programs.
---
Rural Pennsylvania counties experienced a housing boom during the COVID-19 pandemic, according to an analysis of residential property transfer data by the Center for Rural Pennsylvania. From 2019 to 2020, there was a 7 percent increase in rural home sales, and a 6 percent decrease in urban home sales statewide.
The Center used data from the Pennsylvania State Tax Equalization Board (STEB) to learn more about residential property transfers before and during the pandemic. The Center also analyzed data from five county assessor's offices to conduct more in-depth analyses of property transfers in Monroe, Pike, Wayne, Susquehanna, and Somerset counties.
"During the course of the pandemic, the Center was hearing anecdotal accounts of large influxes of new residents to rural Pennsylvania," Sen. Gene Yaw, Center Board Chairman, said. "To find out if there were actual numbers behind these stories, the Center analyzed STEB residential property transfer data and found that, for the most part, these accounts had some merit."
According to STEB data, in 2020, there were 43,275 properties transferred in rural Pennsylvania. The majority of these properties were residential (35,178properties, or 81 percent). In urban counties, there were more than 93,159 property transfers. The majority of these were also residential (87,242 properties, or 94 percent).
Per capita, rural Pennsylvania counties had 10.4 residential property transfers per 1,000 residents, and urban counties had 9.2 residential property transfers per 1,000 residents.
In the case study counties, the analysis found that a significant number of buyers came from counties with higher COVID rates. This was especially noticeable in the Pocono Mountains counties of Monroe, Pike, and Wayne. There was a large number of buyers from outside Pennsylvania in these counties, while in Somerset and Susquehanna counties, most buyers came from within Pennsylvania.
More research is needed to determine if the transfers examined in these case studies are for permanent residency or for vacation or rental properties.
Click here for a copy of the report, Welcome to Rural Pennsylvania: COVID-19 and Residential Property Sales.
Number of Residential Property Transfers in Rural and Urban Pennsylvania, January 2016 to December 2020


Data source: STEB.
---
Percent Change in Residential Property Transfers, March-December 2019 to March-December 2

---
Recently, the Center Board of Directors had the opportunity to visit a utility-scale solar facility in Franklin County. The board got a first-hand look at solar grazing, where sheep are used to control the vegetation under the solar panels. The solar company contracts with a local farmer, who moves the sheep around the site and cares for them throughout the grazing season. It was an interesting look at how solar can be integrated on a working farm.
The following day, the board held a public hearing on solar development at Shippensburg University to learn more about it in terms of land use policies, project implementation, and solar panel decommissioning.
Much of the discussion at the hearing focused on solar facility placement on agricultural lands. Panelists represented state government, academia, agriculture, and the solar industry. They talked about their experiences with and provided expertise on solar development. They also answered many questions about land use and leasing, Clean and Green and Pennsylvania's Farmland Preservation Program, and how both landowners and facilities are addressing any forthcoming removal and decommissioning of solar panels.
We're grateful for the information provided at the hearing, as we need to continue having meaningful conversations about this growing industry.
During the rapid development of Marcellus Shale extraction in the mid-2000s in Pennsylvania, we learned a great deal about leasing, land use, and addressing community concerns about energy facility placement and production. We should use those learning experiences to thoughtfully consider those same issues as they relate to solar, and, quite frankly, any other type of energy development in Pennsylvania.
If you missed the hearing and would like to learn more, visit the Center's website for a link to the hearing recording, the agenda, and the testimony presented.
On behalf of the board, thank you to Tom Murphy and Daniel Brockett of Penn State Extension, Mohamed Badissy of Penn State Dickinson School of Law, Michael Roth of the Pennsylvania Department of Agriculture, Brian Ross of Great Plains Institute, Paul Mason, dairy farmer and Farm Bureau member, Ariane Benrey of New Jersey Board of Public Utilities, Bruce Burcat of Mid-Atlantic Renewable Energy Coalition, Scott Elias of Solar Energy Industries Association, and Andrew Williams of Sol Systems, LLC.
And thank you to Dr. Charles Patterson, President of Shippensburg University, and Center Board Member, for hosting the public hearing.
Sen. Gene Yaw
---
The 2021 Rural Policy Summit on health care and local services were held on October 20 and November 10, respectively.
At the summit on health care, Center Board Chairman Sen. Gene Yaw provided opening comments, and was later joined by Center Board Treasurer Dr. Nancy Falvo, who moderated the panel session. Pennsylvania Office of Rural Health Director Lisa Davis wrapped up the session and provided closing comments.
The panelists were: Thomas Kurtz, President and CEO, Chan Soon-Shiong Medical Center at Windber; Dr. Omrana Pasha-Razzak, Professor of Medicine and Public Health Sciences and Attending Physician, Penn State Hershey Medical Center and Penn State College of Medicine; Joanne Corte Grossi, AARP Pennsylvania State President; and Steven Ross, Special Assistant to the Secretary, Pennsylvania Department of Drug and Alcohol Programs.
At the summit on local services, Julie Fitzpatrick, Executive Director of the Pennsylvania Downtown Center and Dr. Lawrence Feick, Interim Associate Dean of the College of Business Administration and Professor of Business Administration at the University of Pittsburgh moderated the session.
The panelists were: Jim Becker, Executive Director of the Economic Progress Alliance of Crawford County; Amanda Settelmaier, Executive Director of Turtle Creek Valley Council of Governments in Allegheny County; and Alexis Eroh, Plymouth Borough Council Member, Luzerne County.

The dates and topics of the remaining sessions are December 8 (Economic Transitions) and January 14 (Agriculture).
Thank you to our Rural Policy Summit series cohosts: the Pennsylvania Office of Rural Health, Pennsylvania Rural Development Council, Pennsylvania Department of Community and Economic Development, Pennsylvania Downtown Center, and Philadelphia Federal Reserve Bank's Community Development and Regional Outreach Department.
---
Pennsylvania Licensed Health Care Providers per 100,000 Rural and Urban Pennsylvania Residents, 2020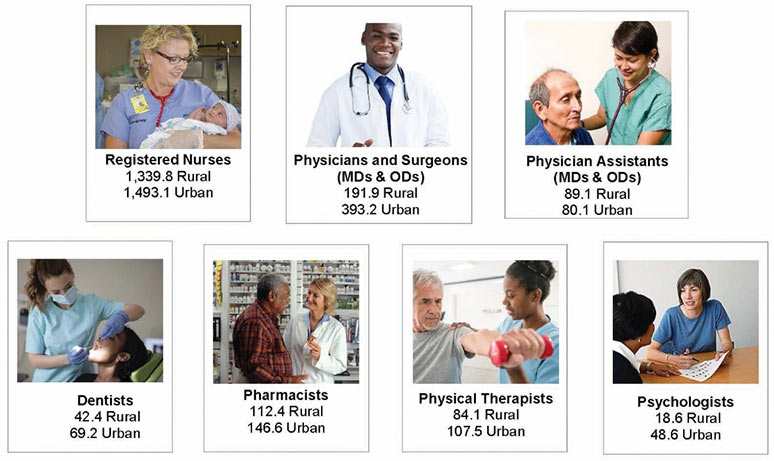 Data source: Pennsylvania Department of State.
---
Number of Medical Doctors Per 100,000 Rural Pennsylvania, Urban Pennsylvania, and U.S. Residents, 1990 to 2017


Data source: U.S. Health Resources and Services Administration (HRSA).
---
Mental Health Professionals per 10,000 Residents in Rural and Urban Pennsylvania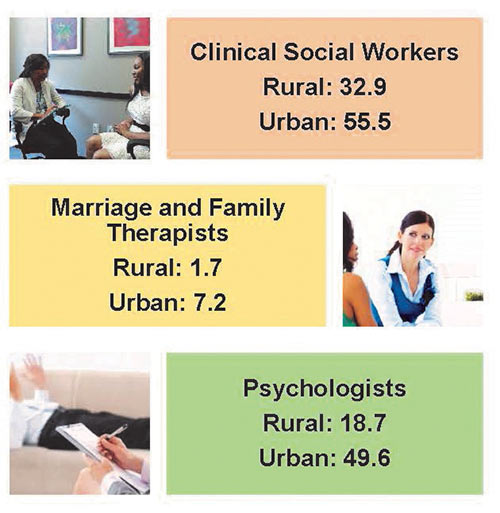 Data sources: Pennsylvania Departments of State and Health, and HRSA.
---
Percent of Rural and Urban Pennsylvania Health Care and Social Service Workers Who Are 55+ Years Old and Older, 2nd Quarter 2000 to 2020


Data source: Longitudinal Employer-Household Dynamics, U.S. Census Bureau.
---
Health Care Facilities in Pennsylvania, 2020

Correction as of January 7, 2022: Please note that 2020 data from the Health Resources and Services Administration included a short-term care hospital in Northumberland County. That hospital has since been removed from the data.



Data source: HRSA.
---
Number of Hospital Beds per 1,000 Residents in Rural and Urban Pennsylvania, 2000 to 2019


Data source: Pennsylvania Department of Health.
---
Fewer vehicles were on the road during much of 2020 because of the COVID-19 pandemic. And fewer vehicles on the road equals fewer crashes.
According to 2019 and 2020 data from the Pennsylvania Department of Transportation (PennDOT), vehicle crashes in rural counties decreased from 33,078 in 2019 to 28,048 in 2020, a 15 percent decline. In urban counties there was a 17 decline during this period.
Despite the decrease in overall crashes, there was an increase in statewide fatal crashes from 2019 to 2020. Statewide fatal vehicle crashes increased from 990 in 2019 to 1,060 in 2020, a statistically significant increase from 2019 crashes. This significant change occurred primarily in urban counties; rural counties saw no significant change in the number of fatal crashes.
Statewide drunk driving crashes continued a 4-year decline, with less than 7 percent of all 2020 crashes involving alcohol. However, overall impaired driving had a slight increase in 2020, due to an increase in drug-related vehicle crashes in rural and urban counties.
Crashes that involved falling asleep at the wheel decreased 10 percent, from 2 percent of all crashes in 2019 to 1.8 percent in 2020, which is statistically significant. Crashes involving unbelted drivers or passengers went from 10 percent of all crashes in 2019 to 11 percent of all crashes in 2020: this increase occurred in both rural and urban counties.
Consistent with previous years, only 25 percent of crashes occurred on local roads, with most occurring on state roads and interstates.
Vehicle Crashes per 10,000 Residents by County, 2020