2023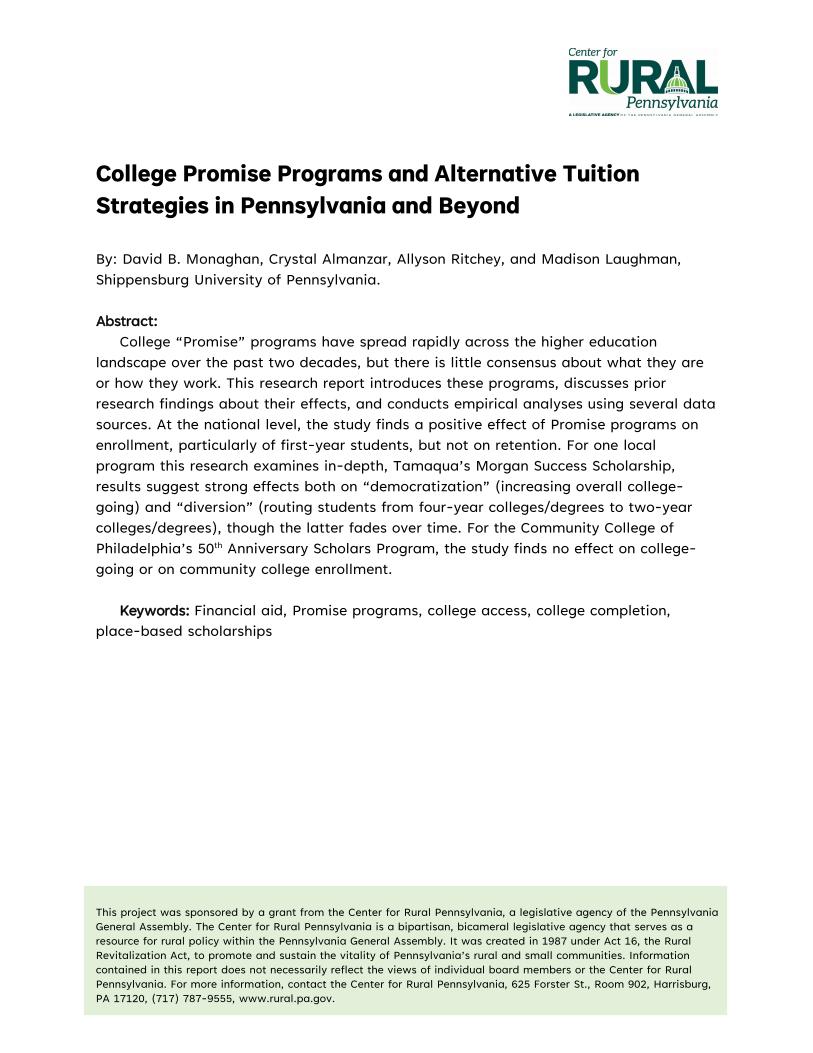 December 07, 2023 | Education
College "Promise" programs have spread rapidly across the higher education landscape over the past two decades, but there is little consensus about what they are or how they work. This research report introduces these programs, discusses prior research findings about their effects, and conducts empirical analyses using several data sources. At the national level, the study finds a positive effect of Promise programs on enrollment, particularly of first-year students, but not on retention. For one local program this research examines in-depth, Tamaqua's Morgan Success Scholarship, results suggest strong effects both on "democratization" (increasing overall college-going) and "diversion" (routing students from four-year colleges/degrees to two-year colleges/degrees), though the latter fades over time. For the Community College of Philadelphia's 50th Anniversary Scholars Program, the study finds no effect on college-going or on community college enrollment.
October 20, 2023 | Education
The study investigated the stress effects of the COVID-19 pandemic on students' mental health. This research collected primary and secondary data to compute a mental health stress index of youth mental stress levels and to examine the im­pact of the pandemic on youth behaviors.
September 01, 2023 | Education
This study investigated the financial impact of cyber charters in Pennsylvania, parents' decision-making about cyber enrollment, and traditional rural school district and cyber leader responses to changing cyber enrollments to inform Commonwealth cyber charter policy. The data suggest that cyber enrollments and costs to rural districts have dramatically increased over time and cyber charter achievement data lag behind both brick-and-mortar charters and traditional public schools.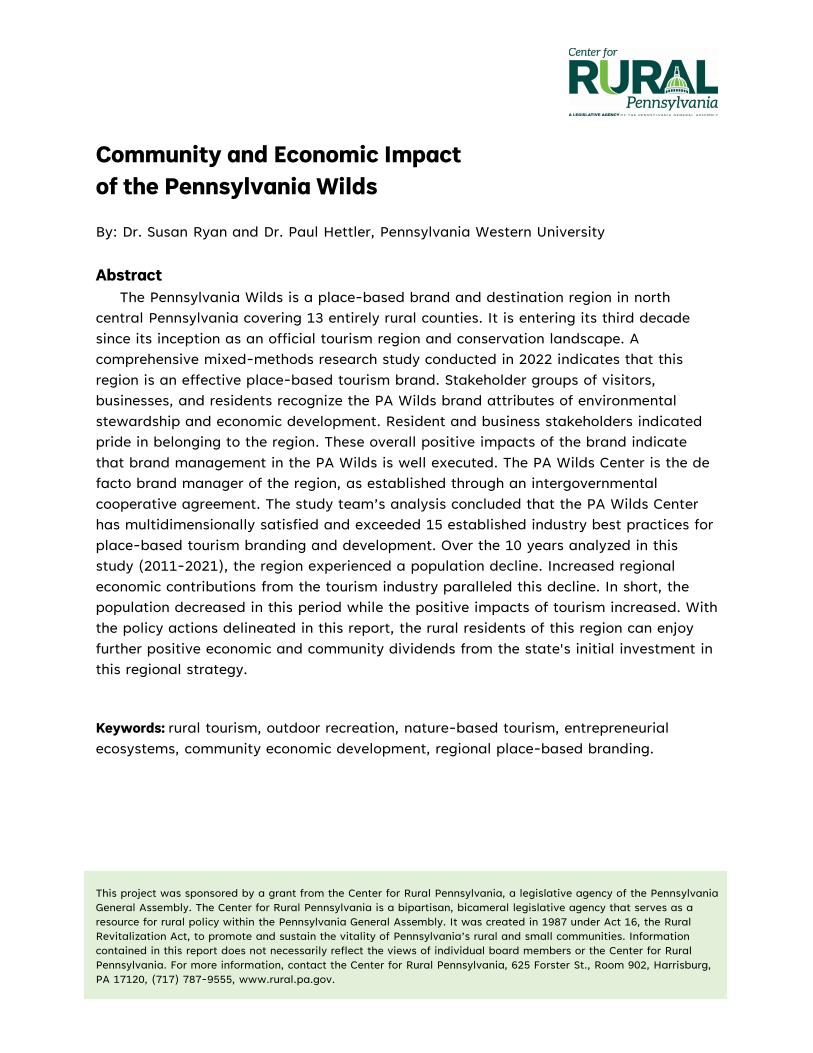 August 11, 2023 | Community and Economic Development
The Pennsylvania Wilds is a place-based brand and destination region in north central Pennsylvania covering 13 entirely rural counties. It is entering its third decade since its inception as an official tourism region and conservation landscape. This comprehensive mixed-methods research study conducted in 2022 indicates that this region is an effective place-based tourism brand. Stakeholder groups of visitors, businesses, and residents recognize the PA Wilds brand attributes of environmental stewardship and economic development. Resident and business stakeholders indicated pride in belonging to the region. These overall positive impacts of the brand indicate that brand management in the PA Wilds is well executed. With the policy actions outlined in this report, the rural residents of this region can enjoy further positive economic and community dividends from the state's initial investment in this regional strategy.
June 30, 2023 | Rural People and Communities
Historical population decline in rural Pennsylvania runs counter to polling data suggesting that many Americans prefer to live in rural areas if they could live anywhere they wished. The purpose of this study was to explore this disconnect guided by two research questions: What are the factors that lure (i.e., pull toward) or block (i.e., push away) people from relocating to, and staying in, rural areas, and how do those factors align with existing population shrinkage strategies, specifically for rural communities? To explore these research questions, the researchers conducted an online survey that incorporated both quantitative and qualitative data collected from residents of Pennsylvania and 10 states adjacent to Pennsylvania. Participants were recruited through Amazon Mechanical Turk. Overall, the results of the study support the argument that there are individuals living in both neighboring states and in non-rural Pennsylvania that are not attached to where they currently live, would prefer to live in a rural area, and may respond positively to relocation incentives that are tailored to their needs and wants.