2022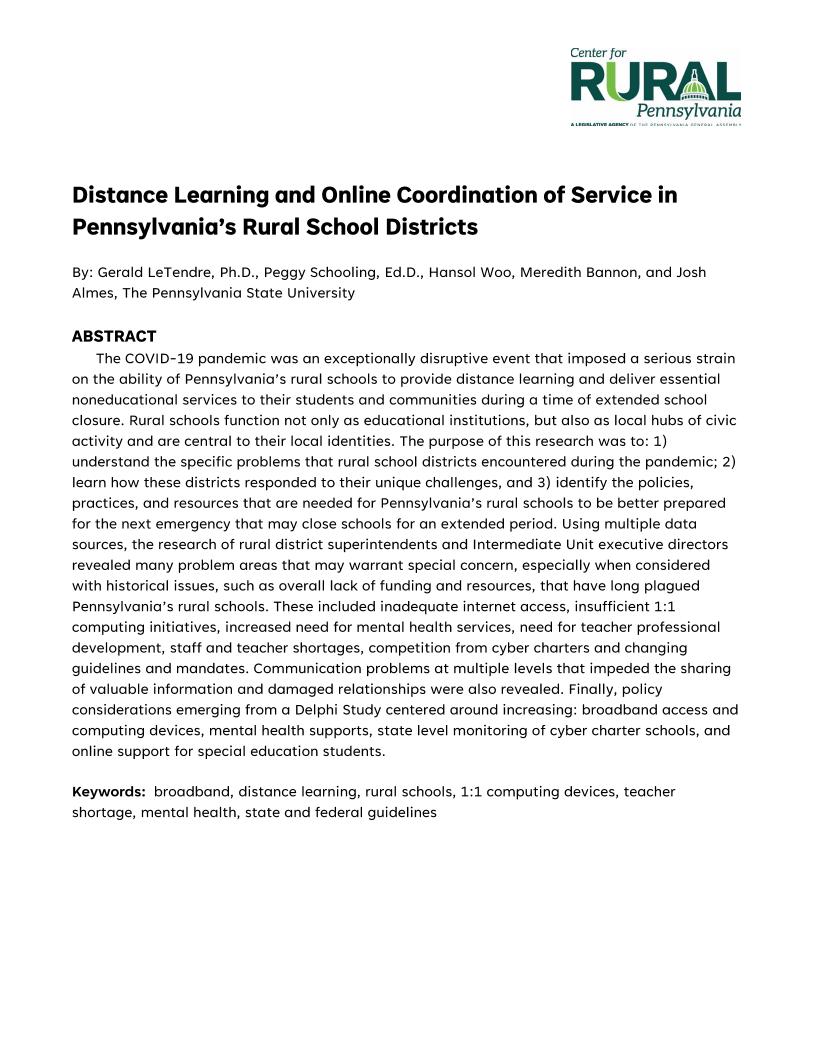 December 14, 2022 | Education
The purpose of this research was to: 1) understand the specific problems that rural school districts encountered during the pandemic; 2) learn how these districts responded to their unique challenges; and 3) identify the policies, practices, and resources that are needed for Pennsylvania rural schools to be better prepared for the next emergency that could close schools for an extended period.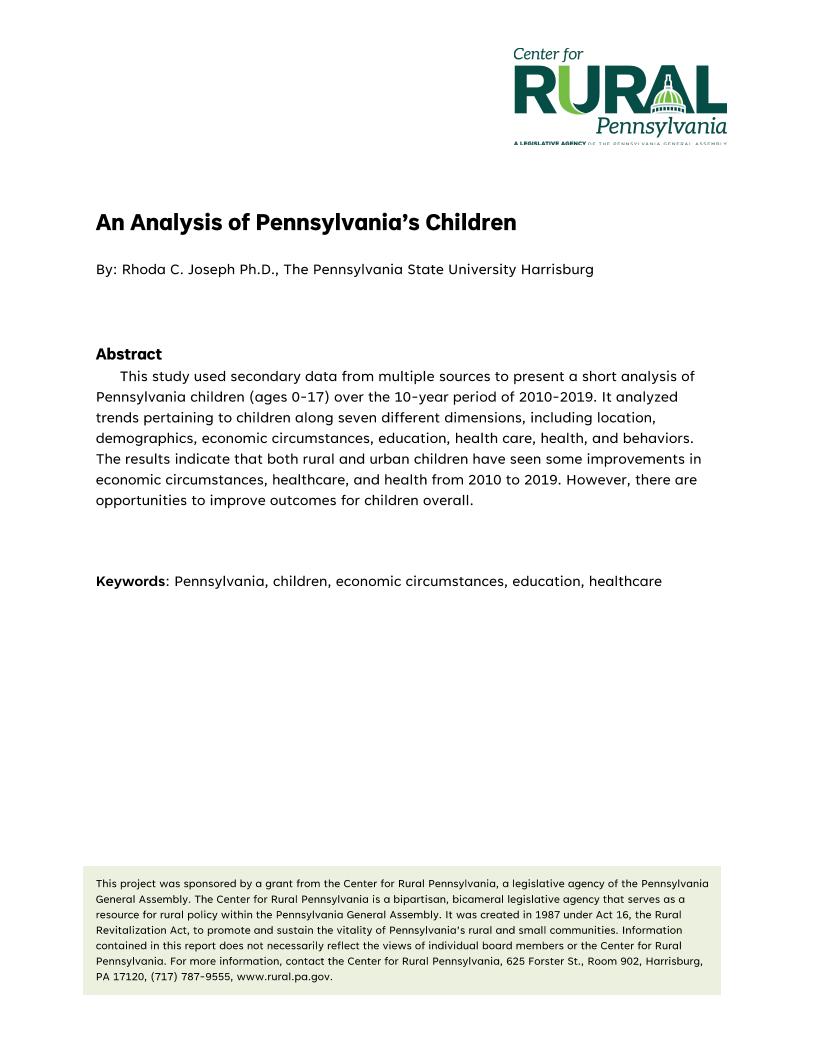 November 22, 2022 | Rural People and Communities
This study used secondary data from multiple sources to present a short analysis of Pennsylvania children (ages 0-17) over the 10-year period of 2010-2019. It analyzed trends pertaining to children along seven different dimensions, including location, demographics, economic circumstances, education, health care, health, and behaviors. The results indicate that both rural and urban children have seen some improvements in economic circumstances, healthcare, and health from 2010 to 2019. However, there are opportunities to improve outcomes for children overall.
November 03, 2022 | Rural People and Communities
This study analyzed the extent of social isolation among rural Pennsylvanians aged 62 or older, evaluated the determinants of social isolation among older residents, identified evidence-based programs and services that minimize social isolation, and assessed potential replicability in Pennsylvania.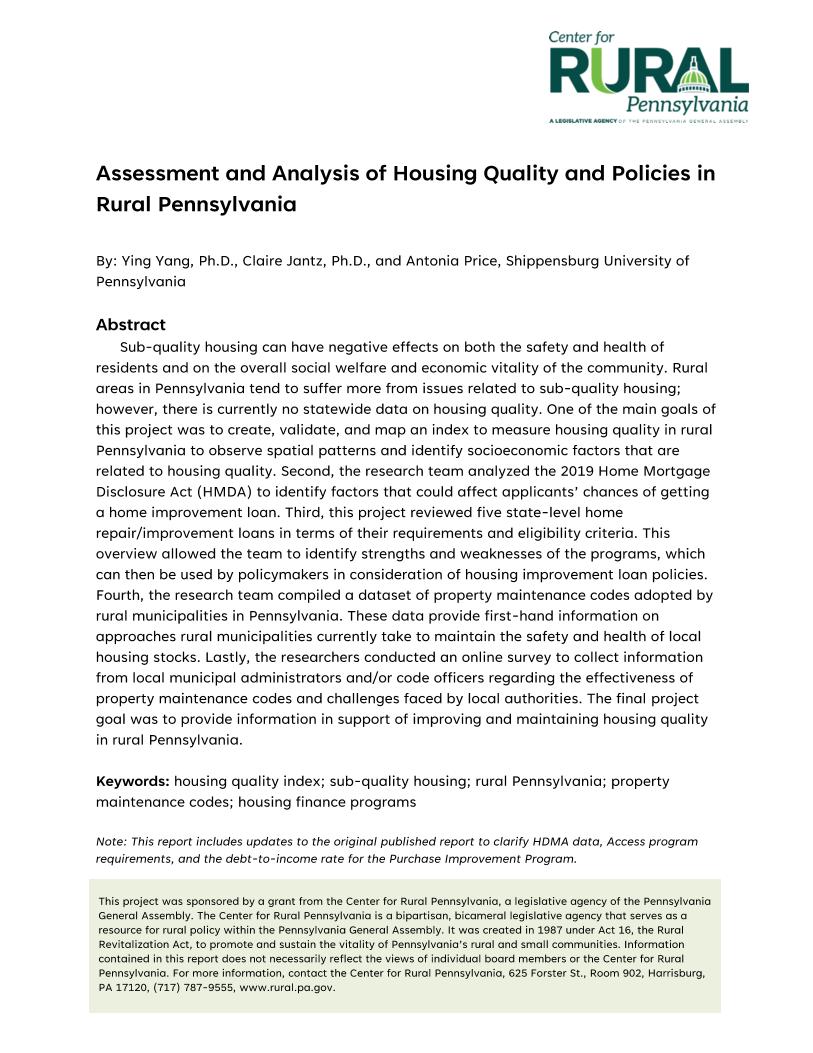 September 29, 2022 | Health Care and Human Services
The purpose of this study was to assess housing quality and related policies and programs in rural Pennsylvania. The research goals and objectives focused on four areas: gaining a quantitative understanding of housing quality for rural Pennsylvania communities; understanding barriers faced by rural residents in securing loans to address home improvement; understanding municipal policy and implementation regarding housing maintenance codes; and developing policy considerations that address the key issues regarding housing quality in rural Pennsylvania.
August 25, 2022 | Education
Using a mixed methods approach that combined state-level institutional data, local interviews with school administrators, and school district data, this research examined how COVID-19 has (re)shaped rural school districts' ongoing efforts to identify and address equity concerns along geographic, fiscal, instructional, and racial/ethnic lines across Pennsylvania.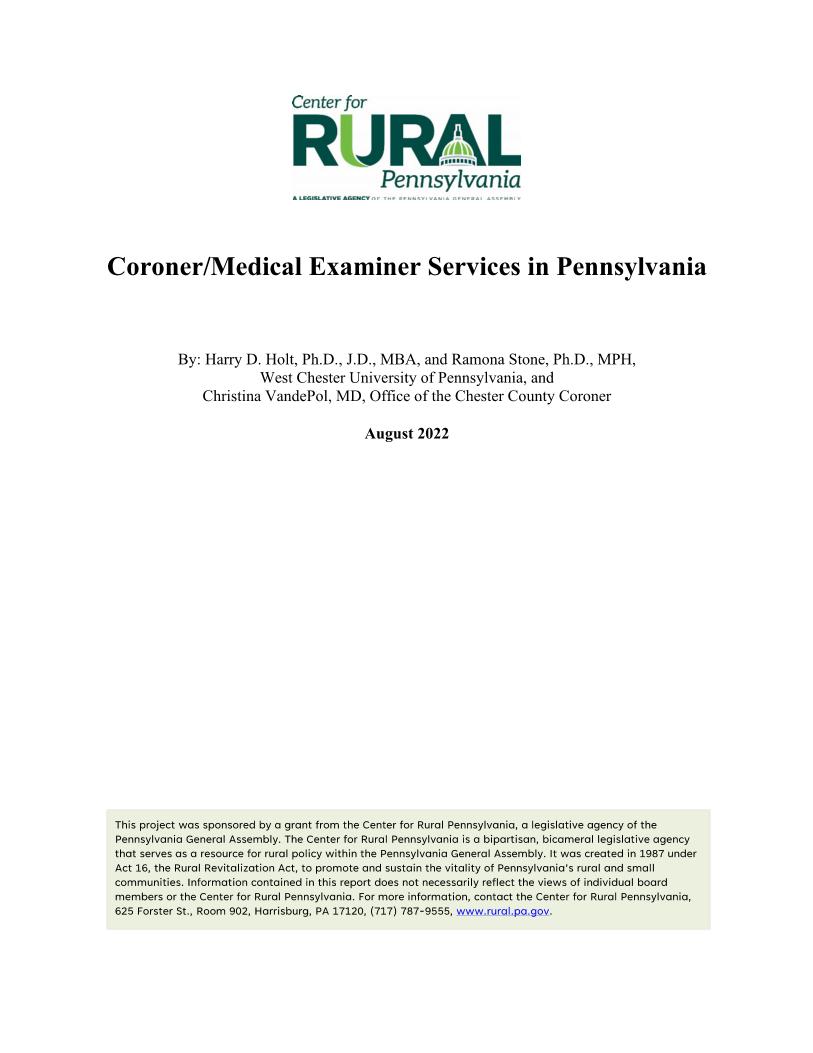 August 02, 2022 | Health Care and Human Services
This research provides information about Pennsylvania coroner/medical examiners (C/MEs) and their offices. It examined office caseloads, funding, facilities, forensic capacity, vehicles and equipment, and staffing and training resources. It also assessed how the opioid epidemic and the COVID-19 pandemic affected county C/ME offices.
June 30, 2022 | Rural People and Communities
The goals of the research were to investigate whether the COVID-19 pandemic triggered or heightened the crimes of murder and abuse in Pennsylvania, and to identify rural-urban differences in these outcomes both before and during the pandemic.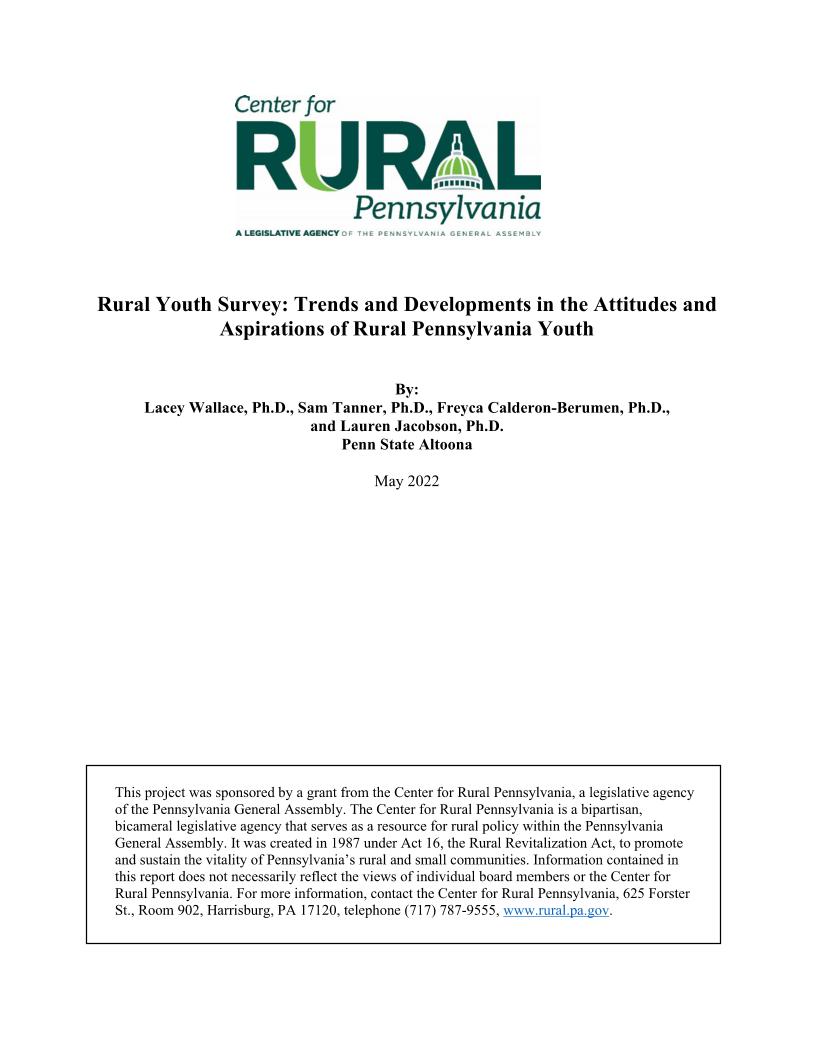 May 18, 2022 | Rural People and Communities
The goals of this project were to document the educational, career, and residential aspirations of rural youth today, to examine the community, family, and peer factors that might shape these aspirations, and to detail the opportunities and barriers that youth experience.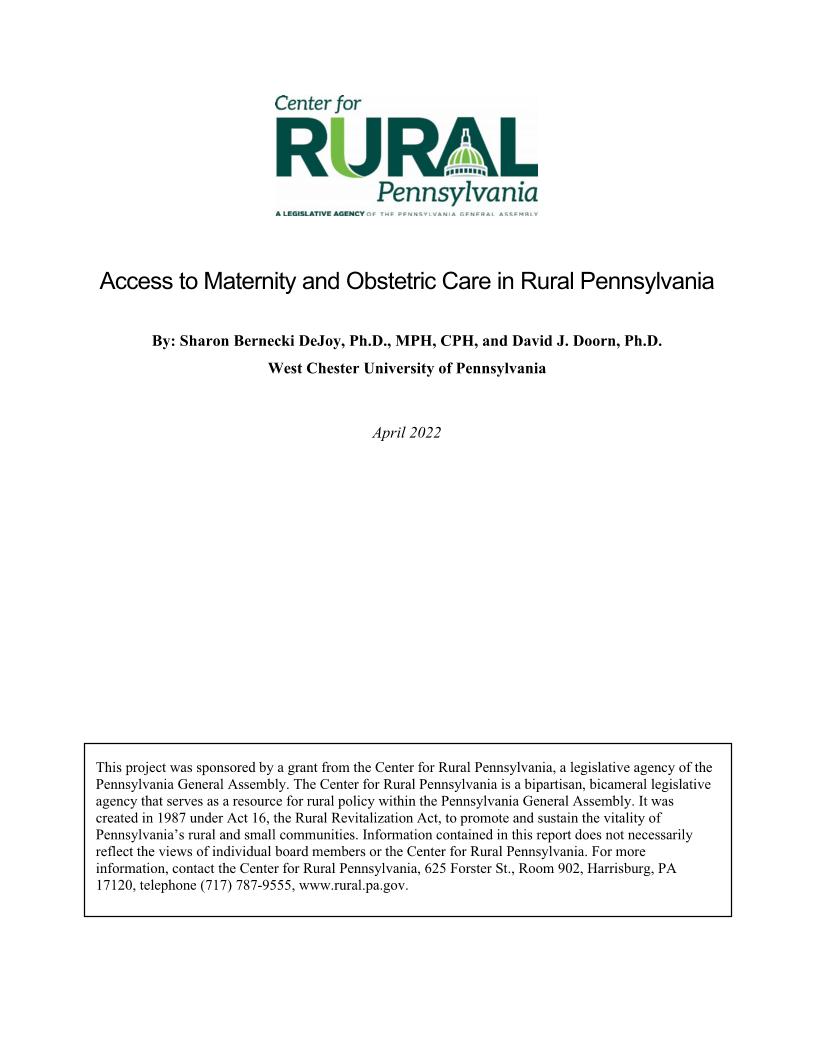 April 22, 2022 | Health Care and Human Services
This study examined access to maternity care in rural Pennsylvania. Maternity care (also known as obstetric care) can be defined as health care services delivered to women during pregnancy, childbirth, and the postpartum. Access to maternity care is defined as the availability of birthing facilities (hospitals or birth centers) and practitioners (physicians and midwives) providing these health services.
April 04, 2022 | Local Government Finance and Administration
March 21, 2022 | Rural People and Communities
This research provides a profile of the social and economic well-being of rural Pennsylvania women through a detailed understanding of their lives, livelihoods, and families. It used data from the 2005-2009 and 2014-2018 American Community Survey (ACS).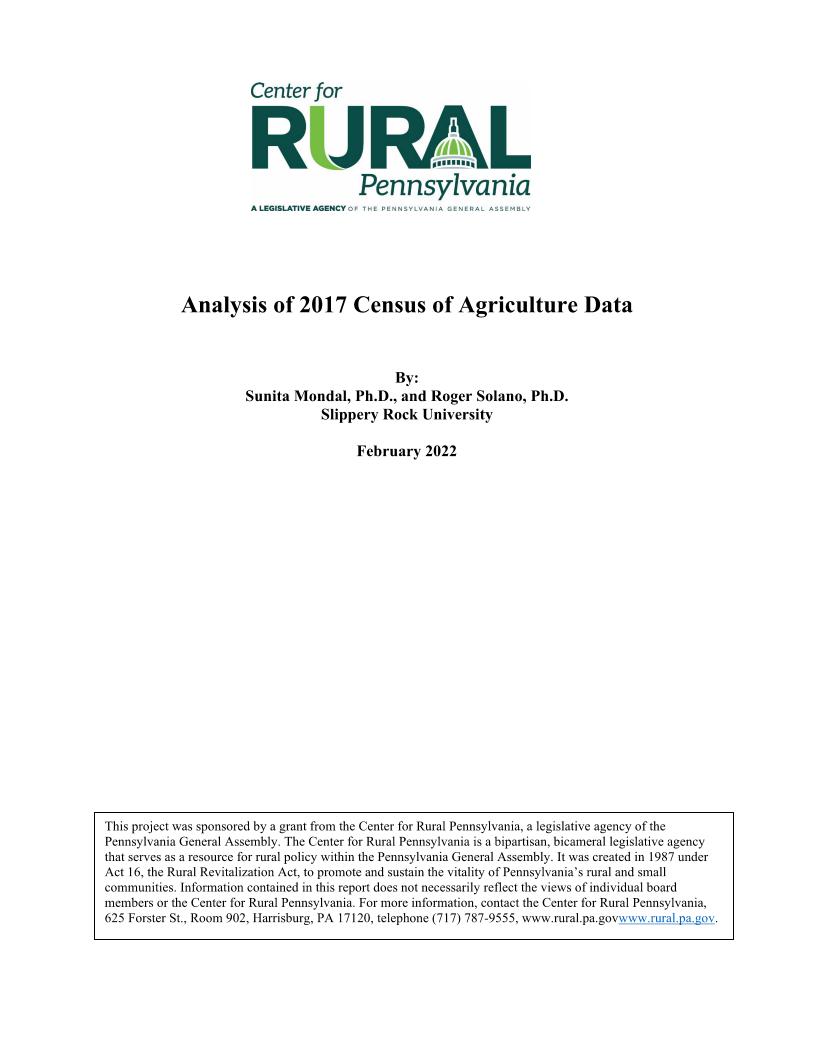 February 21, 2022 | Agriculture
This study examined the agricultural industry in Pennsylvania and provides descriptive profiles of farm operations and farmers, as well as trends in Pennsylvania agriculture.
February 11, 2022 | Infrastructure
Access to affordable broadband technology has been a long-standing challenge for many rural Pennsylvanians. In November 2021, the federal Infrastructure Investment and Jobs Act set aside $65 billion to improve access to high-speed internet across the nation. Part of that act requires states to prioritize projects for those with the most limited access to broadband connections. The Pennsylvania General Assembly passed Act 96 of 2021 shortly after the federal law. Act 96 established the Pennsylvania Broadband Development Authority to improve internet access across the Commonwealth.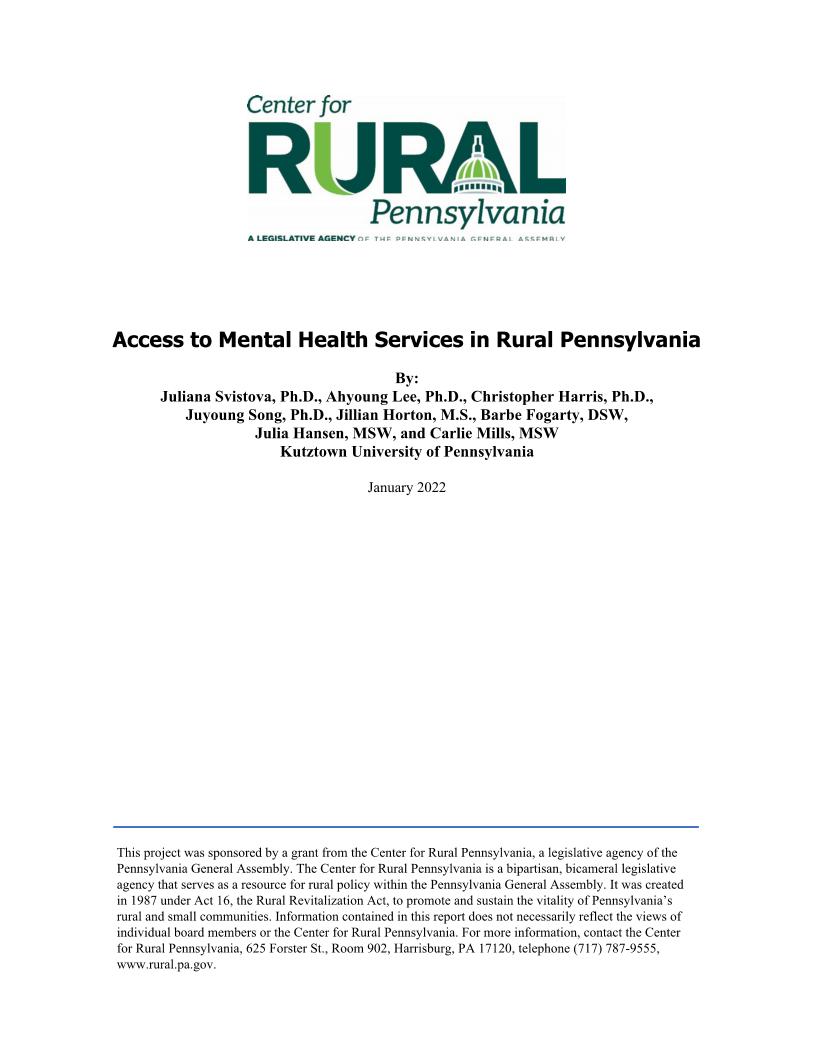 January 24, 2022 | Health Care and Human Services
This research assessed the demand for mental health services in rural Pennsylvania with a focus on youth and the elderly. It identified challenges these populations face in accessing mental health care to provide options for improving and expanding mental health care services for underserved rural Pennsylvanians.